Met Office confirms UK autumn second warmest on record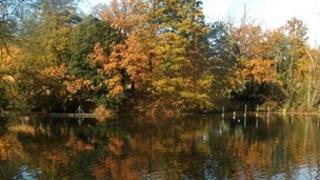 This autumn was the second warmest on record, the Met Office has said.
The mean temperature across the UK was 11.2C (52.2F), just below the record set in 2006 of 11.39C.
It was also the second warmest November in the UK as a whole - although in Scotland it was the warmest since records began in 1910.
Dan Williams, a spokesman for the Met Office, said people should not read any significance into the warm weather.
He said it had been caused by southerly winds bringing warm air up from continental Europe.
"It's just down to natural variability," he said.
"It's very difficult to attribute anything on a regional scale to things like climate change. Here in the UK we get variations in weather from one day to the next, one week to the next.
"Although the three warmest years were in the last decade, the fourth and fifth were in 1949 and 1959 respectively.
"When the winds change and bring cold air from the Arctic, the weather will change very quickly, which is why we're predicting cold temperatures in Scotland for Sunday and Monday."
'Extreme event'
The mean temperature across the UK in November was 8.7C, which was just short of the 1994 record of 8.8C.
In Scotland the mean temperature was 7.7C, the previous record high was 7.5C - also in 1994.
England, Wales and Northern Ireland enjoyed the second warmest November behind those recorded in 1994.
The Met Office used both day-time highs and night-time lows to calculate the mean temperatures.
It noted that minimum temperatures had been particularly mild - for the UK this has been the equal warmest autumn in the series for minimum temperatures, shared with 2006.
Mr Williams said the warm autumn would not affect how cold or warm winter was.
He said: "The Met Office is doing research to see how regional events and extremes could be affected by climate change but one warm season isn't an extreme event".