Stolen dog numbers increase says DogLost helpline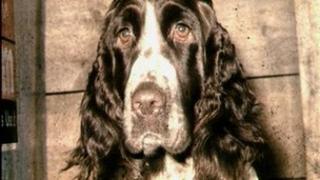 The daily number of dogs going missing has doubled in the past year, according to the DogLost helpline.
Its website had between 20 and 30 dogs - and occasionally up to 40 dogs - registered as missing per day in 2011.
Last year, the numbers ranged between 12 and 15 dogs a day, while in 2009 between six and 10 dogs were registered as missing daily.
Dog owners are being advised to get their dogs microchipped, to make it easier for them to be traced.
The current economic climate is being blamed as one reason for the missing pets, as many breeds of puppy can sell for several hundred pounds.
DogLost says working breeds such as cocker spaniels are most at risk, with trained gundogs selling for thousands of pounds or being taken for breeding.
Phillip Chaffey, a gamekeeper at the Radbourne Estate in Derbyshire, said dogs going missing was "a growing problem".
He added: "They can be worth anything from a few hundred to a few thousand. They're not always used for working, but it's in the blood, so they could just be used for breeding."