Well-being survey: Three-quarters satisfied with lives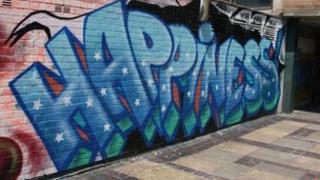 About three-quarters of people in the UK are satisfied with life, according to a study to measure well-being by the Office for National Statistics.
The survey of 4,200 people asked respondents to rank from nought to 10 how satisfied they were and how anxious they felt the previous day.
When asked about how satisfied they were, 76% rated themselves as seven out of 10, where 10 was completely and nought was not at all.
The ONS says they are initial findings.
The UK statistics body added four questions to the ONS household survey, which took place between April and August this year, at the request of the government.
The questions included:
Overall, how satisfied are you with your life nowadays?
Overall, how happy did you feel yesterday?
Overall, how anxious did you feel yesterday?
Overall, to what extent do you feel the things you do in your life are worthwhile?
When asked how happy they felt the previous day, the results showed 73% rated themselves as seven or more out of 10.
To the question about leading a worthwhile life, 78% of respondents rated themselves seven or more out of 10.
These are the first set of experimental results on subjective well-being, the ONS says.
"Nevertheless they give us an indication of the well-being levels within Great Britain in this case," added Stephen Hicks, ONS project leader.
'Happiness spreadsheet'
Last November Prime Minister David Cameron launched a separate "happiness index" to measure the well-being of UK citizens.
He admitted measuring happiness could be seen as "woolly" and "impractical" but said the £2m scheme was warranted because it was a better way of measuring how the country was doing than using gross domestic product (GDP) - the standard measure of economic activity.
"You cannot capture happiness on a spreadsheet any more than you can bottle it - and if anyone was trying to reduce the whole spectrum of human happiness into one snapshot statistic I would be the first to roll my eyes," he said at the time.
Earlier this month the ONS published a list of 10 indicators of well-being, including health, education, income, work and trust in politicians.
The initial ONS findings come as the body prepares to publish a larger survey of 200,000 people next year who will have been asked the same questions.
Meanwhile the advice website Greatvine said they had seen a rise in the number of people seeking advice from their experts for anxiety and depression over the past month.
"We've noted a 35.5% increase in the number of calls being made to our anxiety and depression experts in November and a 20.7% jump in the number of hits registered on our anxiety and depression topic page online," said a Greatvine spokeswoman.