Leveson Inquiry: Lawyer says NoW tried to ruin his life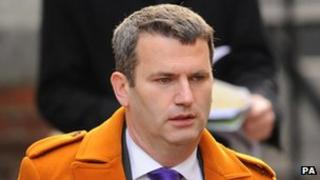 A lawyer acting for phone hacking victims has accused News International of trying to ruin his life.
Mark Lewis, whose clients include the family of murdered schoolgirl Milly Dowler, told the Leveson Inquiry the company commissioned surveillance on him and his family.
He described seeing a "truly horrific" surveillance video of his ex-wife and 14-year-old daughter.
Counsel for News International apologised for what had happened.
The inquiry into press standards also heard an internal dossier about Mr Lewis was compiled by News International, which published the now-defunct News of the World.
The solicitor told the hearing: "News International sought to destroy my life, and very nearly succeeded".
Mr Lewis said he was shown a video of his ex-wife and teenage daughter by detectives at a police station in Putney, west London, earlier this month.
"That was truly horrific, that my daughter was videoed, was followed by a detective with a camera - I mean, just followed," he said.
"That shouldn't happen to anybody's child."
The inquiry heard a report into his private life was also commissioned by Julian Pike, a partner with law firm Farrer and Co, on the instruction of News International lawyer Tom Crone.
David Barr, counsel to the inquiry, said to Mr Lewis: "It would appear that what we have is a document suggesting that personal details which have been dug up are to be used against you and your fellow solicitors."
After Mr Lewis's evidence Rhodri Davies QC, counsel for News International, said: "Physical and video surveillance was commissioned by the News of the World and News International apologises to Mr Lewis and his family for that."
He said they were not aware of any evidence Mr Lewis's phone had been hacked.
'Look of horror'
Earlier the inquiry heard the former deputy head of the UK's data protection authority, the Information Commissioner's Office (ICO), refused to pursue newspapers over the illegal purchase of confidential information.
Alec Owens, ex-senior investigating officer for the Information Commissioner's Office, told the hearing Francis Aldhouse had said the media groups were "too big" to take on despite a clear paper trail showing what had occurred.
Mr Owens, a retired policeman, was the lead investigator for the ICO when it conducted Operation Motorman - an investigation into allegations of offences under the Data Protection Act by the British press.
He told the inquiry that evidence of the illegal accessing of private data was recovered in a raid on the Hampshire home of the private investigator Steve Whittamore in March 2003.
It included criminal record checks, ex-directory telephone numbers, mobile phone numbers, vehicle registration checks and telephone conversions.
Mr Owens said Whittamore - who was convicted in 2005 of illegally accessing data and passing it on - had admitted his own involvement in the illegality but refused to implicate any journalists.
He went on: "There were four, A4-sized notebooks.
"They contained somewhere in the region of 17,500 entries and along with that an awful lot of paperwork."
Mr Owens described how Whittamore's notebooks helped the investigation.
"We could identify the newspaper, the journalist, Whittamore, who he used, the blaggers, the corrupt people, and we had a paper chain right the way up and down," he said.
Mr Owens said he presented his evidence to Richard Thomas, the then information commissioner.
"He just said: 'Thanks very much for updating us.' That was it," said Mr Owens.
Mr Owens said Mr Aldhouse, the deputy information commissioner at the time, had a "look of horror" when he was shown the files. He said Mr Aldhouse told him: "We can't take the press on, they're too big for us."
Mr Thomas is due to give evidence to the inquiry on Thursday.
'Frankly putrid'
Mr Owens later explained why he believed the media wanted confidential information.
"It dawned on me this is what they wanted the numbers for - to hack," he told the inquiry.
Earlier, Tony Blair's former press secretary Alastair Campbell gave evidence. He insisted that most journalists were good people with nothing to fear from press reform.
"The people fighting for the last, last, last chance saloon are the ones who got drunker before," he said.
"They are terrified of not being able to do the sort of journalism they have been doing for the last decade or so."
Mr Campbell said the press was "frankly putrid in many of its elements".