Hillsborough Thatcher files to be released by June 2012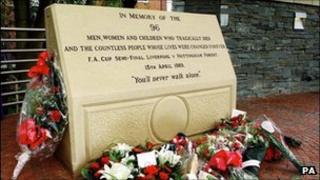 The government has promised to release files relating to Margaret Thatcher and the Hillsborough disaster by June 2012.
This follows a Freedom of Information dispute regarding the files on talks held by the then prime minister in the days after the tragedy.
The government turned down a 2009 BBC FOI request and said all disclosures should be made by an independent panel.
Ninety-five fans died in a crush at Hillsborough football stadium in 1989 - a 96th supporter died years later.
Martin Rosenbaum, the BBC's Freedom of Information specialist, says the content of these documents has already been hinted at in arguments the government made against their publication.
The Cabinet Office had argued that releasing the material now could damage the public relationship with the police so much that even 22 years after the event people would be less willing to co-operate with the police, he says.
The case stems from an FOI application made by the BBC in April 2009 for documents relating to cabinet and other discussions involving Margaret Thatcher following the disaster.
The request was turned down by the Cabinet Office but backed by the Information Commissioner who ruled that releasing the files would be in the public interest.
Crowd control failure
The government appealed against this, arguing that all disclosures should be made by the Hillsborough Independent Panel it set up several months after the BBC's FOI request.
That panel is reviewing most government records for possible publication but cabinet records were outside the panel's terms of reference.
The Cabinet Office has now pledged to reveal the material by 30 June if it has not already been issued by the panel, on the basis that the BBC drops its FOI application.
On 15 April 1989, 95 Liverpool supporters were killed in a crush of fans at Sheffield Wednesday's ground, where the club was playing an FA Cup semi-final against Nottingham Forest. The 96th victim was in a coma and died years later.
Lord Justice Taylor's inquiry into the disaster, which reported in 1990, criticised senior police officers on duty at the match for a failure of crowd control and recommended the introduction of all-seater stadiums.