Stephen Lawrence trial: 'Blood on Gary Dobson's jacket'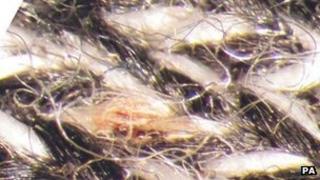 A stain on a murder accused's jacket was caused by fresh blood with a one-in-a-billion chance of not being victim Stephen Lawrence's, a court has heard.
Forensic scientist Edward Jarman said if blood found on Gary Dobson's jacket had been old when it made contact, it would not have soaked in.
He said the blood could have been "shed from a knife" and would have dried in a couple of minutes.
Mr Dobson, 36, and David Norris, 35, deny murdering 18-year-old Mr Lawrence.
The defence says police contaminated evidence relating to the killing.
'Absorbed into fibres'
Mr Jarman told jurors how scientists using a low-power microscope had discovered a blood spot "absorbed into the fibres" of Mr Dobson's jacket during a review of the 1993 murder in Eltham, south-east London.
The jury was shown a picture of the spot alongside a 10 pence piece. They were told it was 0.5mm by 0.25mm in size.
The defence has argued that an old dried blood flake got on the jacket via contamination and caused a spot when it was dissolved during tests for saliva.
But Mr Jarman told the court that although drops could have flown through the air, or been passed on if the knife touched someone's clothing, any blood transfer process that involved multiple steps was unlikely.
If the blood had been passed on to the jacket indirectly, he said: "The transfer would have had to have occurred very shortly after the incident given the sort of quantities of blood that are likely to have been available during the assault."
He added: "The collar stain was more likely to be the result of primary route transfer than other more complex routes."
'Plausible explanation'
Mr Jarman told the court that old fragments of Mr Lawrence's blood became "gel-like" during saliva testing and so would not soak into fabric.
"When these gel fragments were left to dry they became adhered to the fabric so when you touched them they stuck securely to it, but they had not absorbed into the fabric."
He said when he repeated the saliva test using fresh blood flakes, they dissolved and caused a stain.
He added: "If that jacket had remained in the wardrobe I cannot envisage a plausible explanation for the presence of that stain on the collar."
Mr Jarman told jurors that variation in the colour of the bloodstain could suggest the blood was partially dried at the time the mark was caused, but it was so small it was hard to draw conclusions.
He said scientists at LGC Forensics - the company that carried out the review - had worked on the premise that only a small amount of blood would have been available to be transferred on to clothing during the attack.
The BBC's Philippa Thomas - who was in court - tweeted that Mr Dobson and Mr Norris looked "impassive" in the dock when Mr Jarman was giving evidence and that Stephen Lawrence's mother and brother were taking notes.
DNA profile
The court also heard how adhesive tape had picked up three tiny flakes of blood from the bag that had contained the jacket.
One of the blood fragments encased fibres allegedly from a blue jumper belonging to Mr Lawrence. Mr Jarman said it was likely the blood had been wet and that the fibre had dried within it.
He told jurors that scientists had been unable to obtain a full DNA profile of the blood found in the bag. But he said a partial profile had found it had a probability of less than one in a billion of not belonging to Mr Lawrence.
BBC home affairs correspondent Matt Prodger has been following the trial and says this evidence "is at the heart of the prosecution case".
It is alleged Mr Dobson and Mr Norris were among a group of white men who forced Mr Lawrence, an A-level student, to the ground at a bus stop in Eltham, south-east London, and stabbed him twice.
The defence claims forensic evidence, found in 2008 in a cold case review allegedly linking Mr Dobson and Mr Norris to the killing of the black teenager, resulted from contamination.
The prosecution says tiny amounts of blood, fibres, and hair found on clothes taken from their homes prove their guilt.
Testing for blood carried out on a cardigan seized from Mr Dobson's house, and jeans, a sweatshirt and another cardigan taken from Mr Norris's home were inconclusive.
The trial was adjourned and is due to resume on Thursday.