Phone hacking: Woman held in media probe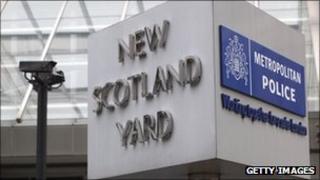 A 31-year-old woman has been arrested by detectives investigating phone hacking by the media.
The woman, understood to be former News of the World reporter Bethany Usher, was arrested in north-east England by officers from Operation Weeting.
She was arrested at 06:35 GMT and is at a police station in Northumberland.
Ms Usher, a journalism lecturer, is being held on suspicion of conspiracy to intercept voicemail messages, contrary to the Criminal Law Act 1977.
The former reporter, who worked at the Sunday tabloid from 2005-2007 and was named Young Journalist of the Year in 2003, is a senior lecturer in journalism at Teesside University. She has also worked for the Sunderland Echo and the People.
She was questioned by police in 2006 on suspicion of providing false information for a job at Buckingham Palace but was not charged. At the time the NoW said it was involved in a genuine journalistic inquiry into royal security.
Ms Usher's biography on Teesside University's website states that she spent seven years working in the newspaper industry after reading English Literature and Language at the University of Leeds.
Following the arrest, a spokesman for the university said: "We cannot comment on an ongoing investigation."
Her twitter account shows a post from Tuesday - directed at former NoW journalist Paul McMullan, who gave evidence to the Leveson Inquiry into press ethics earlier in the day - which said: "For god sake paul Mcmullen (sic), shut your sickening trap."
Hacking Inquiry
The Metropolitan Police set up Operation Weeting to investigate the illegal hacking of the mobile phone voicemails of public figures by the now-defunct NoW newspaper.
Former News International chief executive Rebekah Brooks and ex-Downing Street communications chief Andy Coulson are among those who have already been arrested as part of the inquiry.
The scandal has led Met Police Commissioner Sir Paul Stephenson and Assistant Commissioner John Yates to resign, and the NoW to close down after 168 years.
It is now investigating more widespread phone hacking.
The latest arrest is the 17th made by Operation Weeting. So far nobody has been charged.