Newspaper review: Press dissect Autumn Statement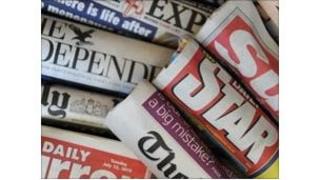 The front pages of the newspapers are dominated by the chancellor's Autumn Statement.
The Daily Telegraph carries the headline: "Six more years of pain".
The Independent reports that "Osborne asks for more... more job cuts, more pain, more borrowing". It says George Osborne has prolonged Britain's predicted age of austerity.
The Guardian says Mr Osborne has predicted a long, bleak winter for the British economy.
The Sun says the Autumn Statement was even worse than feared.
The Times has provided a map of Britain with an economic forecast - and a picture of the chancellor pointing at low pressure, gales, rain and thunder. A bleak midwinter, the paper sums up.
'Cry of rage'
For the Financial Times, it was: "Welcome to pain, pain and more pain".
Polly Toynbee in the Guardian says the statement declared itself for the few against the many, with every hit falling upon those with less, not more.
The press also covers the industrial action by public sector workers.
The Daily Mail asks union members: "Still think striking is a good idea?"
The Daily Express thinks it is unfair for public sector workers to expect unchanged pensions largely funded by those whose own retirement provision is not nearly as generous.
The Independent sees the strike as an "understandable cry of rage" from people bearing the brunt of a financial crisis which was none of their making.
Shortlist controversy
The Daily Mirror says Iranian protesters who stormed the British embassy in Tehran would not have done so without a green light from their authorities.
"Did the BBC forget all the women?" the Independent asks at the absence of any women on the shortlist for this year's BBC Sports Personality of the Year.
"Why is the BBC ignoring sportswomen?" the Guardian demands.
But it acknowledges the candidates were nominated by the sports departments of 27 newspapers and magazines.