London 2012: TfL outlines Olympic congestion hotspots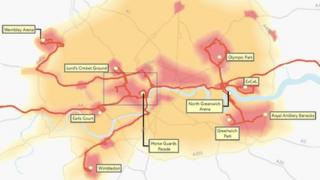 Olympics organisers have published a list of hotspots that businesses, Londoners and visitors are being advised to avoid during the Games.
Heatmaps showing expected congestion levels at London 2012 are available on Transport for London's website.
A 50-60% of reduction in traffic would be needed at key points such as London Bridge to avoid overcrowding, TfL said.
BBC London's Adrian Warner has voiced fears over plans to open Games Lanes just two days before the Olympics.
The Lanes make up a third of the Olympic Route Network, which comprises a 109-mile stretch of London roads.
London hotspot map for 3 August 2012
[66.6]
The Lanes will only be accessible to athletes, officials, sponsors, media and emergency vehicles once they open on 25 July, 48 hours before the opening ceremony.
By contrast, at the last Olympics in Beijing in 2008 the lanes were in place 19 days before the start of the Games.
Business concerns
Britain's largest peacetime logistical exercise, the Olympics is the equivalent of hosting 26 world championships over 16 days at 32 venues across the UK.
Concerns have been raised about the ability of London's narrow streets and already near-capacity transport network to cope with the increase of traffic for the 22 venues in the capital.
London's Transport Commissioner Peter Hendy accepted that overcrowding at London Bridge - which as well as a busy Tube and rail interchange is also an access point to the equestrian events in Greenwich - was a concern.
"At London Bridge in the really busiest times we might need to see a 50 or 60% reduction," he said.
With all 11m spectators being asked to use public transport, walk or cycle to events, organisers are keen to avoid a repeat of the 1996 Atlanta Games, which was marred by public transport problems.
An extra 3m journeys are expected in London on the busiest days of London 2012. Organisers said that while two-thirds of tube journeys would be busier than normal, 70% of roads in Greater London and 65% of tube stations would see no impact.
"We have two clear objectives at TfL; to support the delivery of a great London 2012 Games and ensure we keep London moving and open for business next summer," said Mr Hendy.
Hardest-hit stations
The heatmaps show roads and stations that will be affected by the Olympic Torch relay in July, the introduction of the Olympic Route Network two days before the opening ceremony, as well as the impact around event venues during the Games.
Red patches show heavily congested areas, with Friday 3 August expected to be the busiest weekday of the Olympics, as events take place at venues across the capital.
Congestion problems are also expected on Monday 13 August, when a flock of athletes and officials will head for London's airports the day after the Olympics closing ceremony.
Tables show expected delays at 30 of the hardest-hit tube and DLR stations, broken down into half-hour intervals, indicating where there will be delays of more than 30 minutes to board a train.
A second set of tables shows how the impact is alleviated by a 20% reduction in journeys, which TfL hopes to achieve by working with businesses to persuade staff to work from another location, work from home, take a holiday, or work longer hours on fewer days of the week.
Even with this anticipated reduction though, widespread delays of more than 30 minutes are expected at peak times at stations such as Bank, Bond Street, Canada Water and London Bridge.
Theatre-goers guide
"Many lines, particularly the Central and Jubilee lines, will be busy," said TfL's director of Games Transport Mark Evers.
"There aren't going to be queues of two or three hours at any station… but there will be really busy spots and we need to help people to understand on what day at what time and at what particular location that is going to be a problem," Mr Evers told the BBC.
He also talked down concerns that athletes and international media would be hit by transport delays ahead of the Olympics as the ORN comes into force just two days before the opening ceremony.
"We're confident that we'll be able to get athletes and officials around to their training venues and other venues on time so that they can prepare for a Games effectively," he said.
TfL's latest information outlines more details about the impact of the ORN on specific roads and junctions.
The ORN has sparked anger from businesses and residents who fear chaos because of traffic management measures such as the closure of side roads, banning turns, altering traffic light sequences, parking/loading suspensions, and suspending pedestrian crossings.
TfL has also launched a web tool giving journey times from key origin and destination points across the capital.
It is planning a marketing campaign after Christmas to advise Londoners on Games-time travel, with recommendations to come into work a little earlier, perhaps walking or cycling or taking annual leave so they can take advantage of the events planned in London next summer.
Transport Secretary Justine Greening welcomed the publication of the travel information, saying it showed the necessary steps were being taken to keep London moving during 2012.
"It is only sensible that businesses plan ahead, particularly those in and around travel hotspots," she said.
Organisers hope all spectators will travel to events venues by public transport, and TfL has spent £6.5bn on extending lines and upgrading its network to keep London moving during the Games.
The release of the hotspot information and advice was welcomed by a host of businesses, as well as the Society of London Theatre, which has issued a travel guide for theatre-goers during London 2012, with tips for journey planning and ordering tickets.
Julian Bird, the SOLT's chief executive, said 29 productions had already announced they will be playing during the Games, and said advance ticket sales for 2012 were looking strong.
"A trip to one of London's world famous shows is a great addition to any Olympic itinerary or the perfect antidote to a summer of sport," he said.
High-profile figures in the theatre world, including composer Andrew Lloyd-Webber, have voiced concerns that the Olympics could force some West End theatres to shut for the duration of the Games.