Stephen Lawrence trial: Database 'deliberately altered'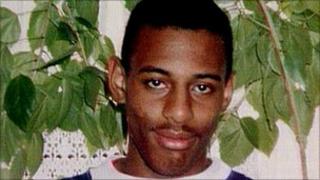 A police officer in charge of exhibits in the Stephen Lawrence murder investigation deliberately altered a database relating to the case, the Old Bailey has heard.
Det Con Paul Steed acted after being removed from the inquiry into the 1993 murder following an assault conviction.
The trial of Gary Dobson, 36, and David Norris, 35, also heard that seals on evidence bags had deteriorated.
The pair deny murdering the 18-year-old, and say evidence was contaminated.
Start from scratch
Det Sgt Alan Taylor said that while talking him through a database prior to handing over responsibility for the exhibits, Det Con Steed had said "I changed a couple of seal numbers on it". He changed them back.
At the time, Det Con Steed was being removed from his position as chief exhibits officer following his conviction for an assault in Spain.
In changing the records, Det Con Steed had committed a deliberate act of spiteful sabotage, Det Sgt Taylor said.
Det Sgt Taylor said he told his superiors that he would have to start from scratch in reviewing the exhibits because of Det Con Steed's actions.
Det Con Steed was demoted from the rank of Det Sgt because of altering the database, the court was told.
'Wide open'
Earlier, police witness Jeffery Clements told the jury that an evidence bag containing Mr Lawrence's jacket and jumper had been open when he picked it up to take it to a forensics laboratory in 2007.
The items of clothing had already been repackaged in 2001 because sticky tape on the paper bags used to hold them had started to "lift", he said.
The brown paper bags containing the clothes were each placed in new self-sealing plastic evidence bags, but over time the adhesive on these had also failed.
"I don't recall it was wide open but when we looked at it, we marked it as unsealed," he said.
'Double folded
Det Con Raymond Wood also said a 2001 inspection of exhibits revealed the tape seals on other evidence bags had "lifted", but that this did not mean the bags were open.
Det Con Wood said one bag containing a jacket belonging to Mr Dobson had a bottom seal that was "loose but double folded".
Nevertheless, he said it was unlikely that the loose seals meant that the evidence had been contaminated.
"There was very little co-mingling of exhibits from the various scenes, therefore there could be minimal opportunity for alleged contamination", he said.
Tim Roberts QC, for Gary Dobson, asked Det Con Wood about his decision to take Mr Dobson's jacket out of its deteriorating bag and repackage it in a new, plastic bag after it had been photographed.
Mr Roberts said: "What you were doing was not just introducing anything that had been inside the original package but you were introducing things that might have been on the outside."
The defence has argued that fibres or particles of blood from Mr Lawrence's clothes may have been transferred from the outside of the bag they were in to the outside of bags containing the defendant's clothes.
Mr Roberts said Mr Dobson's jacket had for some time been in a package that had been stored alongside a package containing Mr Lawrence's black jacket. The two items had been in the same "overbag".
"These packages had been cheek by jowl, the one with another," he said.
However the detective insisted the bags had always remained sealed and the contents could not have escaped.
Stabbed twice
On Monday the court heard from Deborah Doe, then a detective inspector for Kent Police, that some of the exhibits had to be re-sealed before they were returned to the Metropolitan Police in January 1998.
She said: "There may have been deterioration of the packaging which might have needed to be sealed over so that it wasn't exposing any of the contents."
The exhibits where the seals needed repair included the cardigan and jacket taken from Mr Dobson's house.
It is alleged Mr Dobson and Mr Norris were among a group of white men that forced Mr Lawrence, an A-level student, to the ground at a bus stop in Eltham, south-east London, in April 1993 and stabbed him twice.
The defence claims forensic evidence, found later in a cold case review allegedly linking Mr Dobson and Mr Norris to the killing of the black teenager, resulted from contamination.
The prosecution says tiny amounts of blood, fibres, and hair found on clothes taken from their homes prove their guilt.
The trial continues.