UK soldier killed in blast named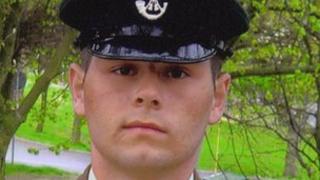 A British soldier killed by an explosion in Afghanistan has been named as Rifleman Sheldon Steel, from the 5th Battalion The Rifles.
The soldier, 20 and from Leeds, was killed on Sunday while on a foot patrol in the Babaji area of Helmand province's Nahr-e Saraj district.
His family said "words could not express" how much he would be missed.
His death takes the number of British troops killed since operations began in the country in 2001 to 390.
Rifleman Steel, who leaves behind his mother, Victoria, brother Kamron, and sisters Cody and Carys, joined the Army in 2009.
'Special blend'
In a tribute, his family said he had loved being in the Army.
"Sheldon was loving, caring and affectionate with his family and we all heard from him regularly.
"He won prizes for his soldiering both in training and in a Regimental competition. He had a good sense of humour and frequently joked with us all," they said.
"He was a big lad - all 6ft 4in of him - with a big heart. His Nanas had to stand on the wall outside the house to kiss him goodbye."
Lt Col Tom Copinger-Symes, the commanding officer of 5 Rifles, said Rifleman Steel had "made his mark across the battalion in double-quick time".
"He truly was a special blend of physical robustness, sharp intellect, old-fashioned politeness, and natural leadership flair - all underscored by a quiet confidence and understated ambition," he said.
"His death in an IED blast has taken one of our very best and we will be so much the poorer for his loss. Nevertheless, we have been enriched by his presence amongst us, his professionalism, and his passion for our chosen career."
Defence Secretary Philip Hammond said he was "deeply saddened" to hear of Rifleman Steel's death.
"The tributes of his colleagues speak of a highly capable, professional soldier whose achievements and potential impressed all those he served alongside. I extend my deepest sympathies to his family, loved ones, and his colleagues in 5 Rifles."