Blogger 'Guido Fawkes' summoned by Leveson Inquiry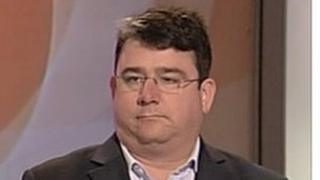 A political blogger has been summoned to appear before the Leveson Inquiry into press standards after supposedly confidential evidence emerged online.
The Order-order website published a link to papers submitted to lawyers by former Downing Street communications chief Alastair Campbell.
He is due to appear before Lord Justice Leveson next week.
Paul Staines, who runs the website under the name Guido Fawkes, claims to have obtained the papers legally.
Mr Campbell, a former Daily Mirror journalist and spin doctor to Tony Blair, said he was "genuinely shocked" to see his evidence in the public domain.
His statement will now be published on the inquiry website on Monday, rather than on Wednesday following his appearance as would be the norm.
A statement issued by the Leveson Inquiry read: "Lord Justice Leveson was extremely concerned to hear that, on November 27 2011, a copy of the evidence that Mr Alastair Campbell intended to provide to the inquiry was published on the 'Guido Fawkes' website.
"The website asserts that this statement was obtained by 'legal means' but Lord Justice Leveson will be enquiring further into this claim and Mr Paul Staines will be required to give evidence."
In his blog, Mr Staines highlights contentious elements in Mr Campbell's evidence, which contains a string of potentially damaging claims.
One of these is speculation as to whether or not Cherie Blair's phone was hacked when her husband was prime minister, although Mr Campbell makes it clear he has no evidence to back this up.
BBC correspondent Peter Hunt reports that it is not clear if the published version is an earlier draft of Mr Campbell's statement, or the final version.