Strike: BBC poll suggests strong support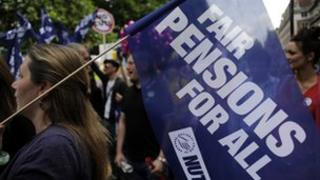 An opinion poll commissioned by BBC News suggests 61% of people believe public sector workers are justified in going on strike over pension changes.
More than two million people are due to walk out on Wednesday.
The research also indicates differences between men and women in their outlook on the strikes and the economy.
The polling firm Comres interviewed 1,005 adults by telephone across England, Scotland and Wales one week ago.
The poll indicates greater sympathy for the industrial action among women - at 67% - compared with men, at 55%.
Younger people, it also suggests, are considerably more supportive of the strikes than pensioners; almost four in five 18 to 24-year-olds back the action, a little under half of over-65s do.
Whether people support the strikes or not feelings are strong.
Midwife Yolande van-de-l'Isle will be going on strike for the first time. The proposed changes will mean she has to work years longer for the same pension.
She said she felt apprehensive about the walkout: "I didn't ever expect to ever be doing this in my whole working life.
"It's not just the fact that we're paying more and getting less, it's the fact we're having to work much longer.
"I absolutely love my job. As a midwife you want to do the best job that you can.
"But when you get to a certain point in your life you are quite tired, you can't work at the same kind of rate that you do when you are younger, you don't have the energy.
"When you're a little old lady of 65 how can you be giving your best to all the women you are looking after?" she said.
But Julie Rumble, who runs her own shop, has little sympathy for the striking workers. She cashed in her private pension three years ago because it was worth so little.
She said: "I'm very unhappy about it. These people have jobs and they are always going to have their jobs and when they retire they are going to get a great big fat pension which is more or less 50% of their current salary.
"I'm not going to get that when I retire, if I ever get to retire which seems unlikely. I think I'll be having to work until I'm 111 because there's no feasibility that I'm going to get any more than the minimum pension you get now.
"I think they are being very selfish," she said.
Of those who responded to pollsters, 28% said the government was handling the economy well.
But again, there was a gender divide - the figure was 22% among women and 34% among men.
Overall, 67% of people, the poll indicates, are not convinced ministers are doing what is necessary to improve our economic prospects.