Financial fears sour public mood, BBC poll suggests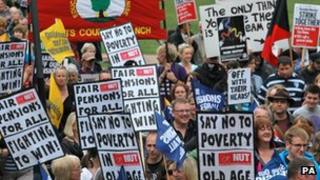 An opinion poll commissioned by BBC News suggests more than 60% of people believe public sector workers are justified in going on strike later this week over changes to their pensions.
It also indicates large numbers feel pessimistic about the economy, so are we heading into a financial storm?
"My wife and I are now buying value meals, tins of food. I have put energy saving bulbs in every light. We can't afford to go on holiday. Car travel is down to a minimum."
Bern Armer's approach to the economic gloom is typical of those who have filled in 5 live's Feeling the Pinch questionnaire.
Mr Armer says he is going to retire soon. He is 72.
In a week where our financial fortunes - as individuals, families and as a country - will be making headlines, the BBC News website, Radio 5 live and BBC Breakfast commissioned the polling organisation Comres to survey our collective economic outlook.
Greater sympathy
5Live's questionnaire also asked listeners to say if their finances had been affected this year and if they had had to give anything up to save money.
Chancellor George Osborne's Autumn Statement and projections made by the Office for Budget Responsibility on Tuesday amount to an economic weather forecast, and what the government is planning in terms of financial umbrellas to attempt to protect us from the worst of it.
On Wednesday, we could see strikes that are the biggest in decades. Proposed changes to public sector pensions are the specific grievance for many. But a more general sense of a chronic bout of economic lethargy is referred to by plenty too.
Comres interviewed 1,005 adults in England, Scotland and Wales by telephone between 18 and 20 November 2011. The data was then weighted to be demographically representative of all adults in Great Britain.
Between half and two thirds of us, 61%, the poll suggests, believe public sector workers are justified in walking out. But will people change their minds after Wednesday's strikes?
Taking a look at how the figures breakdown is interesting too.
The poll indicates greater sympathy for the industrial action amongst women - at 67 per cent - compared to men, at 55 per cent.
Younger people are considerably more supportive of the strikes than pensioners; almost four-in-five 18-24-year-olds back the action, a little under half of over-65s do.
Blame
The poll also suggests almost four out of five of us - 79% - do not expect our personal financial situation to get any better in the next year. Almost a third of us think it will get worse, one-in-five expect an improvement.
Interestingly, the figures suggest we are marginally more pessimistic about the UK economy as a whole than we are about ourselves - 85% of us expect things to remain the same or get worse over the next 12 months.
"We will be getting rid of our second car when the MOT runs out at the end of January," 5Live listener Peter Taylor told the radio station.
"The mobile will be switched to pay as you go when the £20 a month contract runs out in June 2012, I have purchased a chest freezer so any meat and bargains close to sell date can be capitalised on".
So who do we blame for all this?
A quarter of us blame the banks, a third of us blame the government. Just one-in-10 of us blame other European countries, which suggests ministers regularly pointing to the crisis in the Eurozone to explain our woes does not wash with many.
But a significant minority, almost a third - 28% - think the government is handling the UK economy well.
Again though, there is a gender divide. Women are considerably less likely than men to endorse the government's economic strategy. This will worry those inside the coalition, and particularly the Conservatives, who sense a trend which suggests many women are disillusioned with the government's approach.
Stepping back from the specifics, ministers are ultimately aware of one thing. Predicting - and then shaping - the economic weather remains the central barometer against which they will be judged, and collectively how life in the UK will feel over the next decade.