Paedophile singer Gary Glitter cleared to travel abroad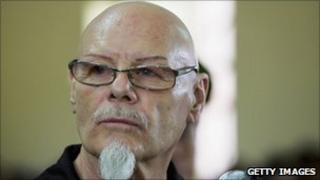 The travel ban on 1970s pop star Gary Glitter, who was convicted of child sex offences in Vietnam, has been lifted.
Glitter, who was convicted under his real name of Paul Gadd, spent three years in jail in Vietnam for sexually abusing two girls.
The BBC understands Scotland Yard took the decision not to ask for a renewal of the order, banning the former pop star from travelling abroad.
Glitter had a string of hits in the 1970s, including Leader Of The Gang.
The BBC's June Kelly said that for a court to grant an order they have to be convinced there is evidence the individual is at risk of reoffending.
Glitter remains on the sex offenders' register, which means he has to seek permission if wants to travel abroad for three days or more.
In November 1999 the disgraced glam rocker was sentenced to four months in a UK prison for possessing images of child sex abuse.