Stephen Lawrence trial told of forensic problems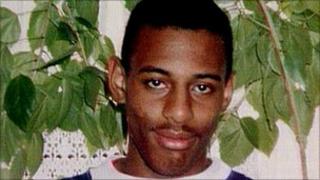 A forensic scientist has told the Stephen Lawrence murder trial fibres were missed in 1995 because it was like "looking for a needle in a haystack".
Dr Angela Gallop, who supervised the original investigation and a new one in 2007, said the "dynamics" of the crime scene had been re-examined.
Prosecutors say evidence on the clothes of Gary Dobson, 36, and David Norris, 35, links them to the 1993 killing.
Mr Dobson and Mr Norris deny murder and say police contaminated the evidence.
The BBC's home affairs correspondent Matt Prodger, tweeting from the Old Bailey, said cold case reviews such as that carried out in 2007 had become increasingly common since the 1990s.
Dr Gallop was in charge of the forensic tests, but by 2007 was working for a private firm, LGC, who were given the task of looking at the forensic evidence afresh.
She said the original forensic tests, in 1995, involved the examination of 1,071 fibres while LGC's trawl found 4,500.
She said of the 1995 tests: "It's a bit like looking for a needle in a haystack and some needles are easier to find than others. We didn't find them and we didn't look at nearly as many fibres as LGC did."
"Perhaps if we'd gone on we might have found them; I don't know," she added.
Dr Gallop said they looked for "saliva from shouting and spitting, fibres, hairs" and they had looked for paint flakes from a scaffold pole found on the pavement near the murder scene.
She also said they searched for fibres from Mr Lawrence's red shirt and found them on tapings from Mr Dobson's jacket and Mr Norris's sweatshirt.
The LGC team found 16 fibres which could have come from Mr Lawrence's clothing on tapings from Mr Dobson's jacket or debris in the evidence bag.
Tiny bloodstain
Dr Gallop said that in 2007 two grey/blue fibres from the victim's jacket were also found on tapings from Mr Dobson's jacket.
They also found a tiny bloodstain on the underside of the collar of his jacket.
Two hairs were found in the evidence bag containing Mr Norris's jeans, one of which matched Mr Lawrence's DNA to a probability of one in 1,000, and six fibres on his sweatshirt could have come from the victim's trousers.
Defence lawyers claim these fibres are from contaminated evidence.
Tim Roberts QC, for Gary Dobson, cross examined her about a report she wrote in 1995 about her conclusions up to then about the forensic examination she had conducted.
In it she said the chances of finding any fibres that could have come from Mr Lawrence's clothes on the samples from the suspects clothes were "very much of a long shot."
Michael Mansfield QC, who led a private prosecution brought by Mr Lawrence's parents back in 1995, then gave evidence about his role in the case.
He denied any clothing had been taken out of its packaging at any of the hearings but admitted he could not remember if the defence had asked to see the exhibits.
Mr Mansfield said: "I wouldn't touch an exhibit, even a container with an exhibit in. I would ask permission from those in control.
"If I wanted to take something out... I wouldn't do it myself because obviously there's a risk of contamination."
Under cross examination by Mr Dobson's lawyer, Timothy Roberts QC, Mr Mansfield was reminded of an excerpt from the inquest in 1997.
In the excerpt, when Mr Mansfield was questioning Mr Dobson, he said: "May I just hold it up and explain what it is? A grey jacket with a zip-up front with a couple of pockets in yellow and collar in yellow and markings on the back. I'd like to ask you about this garment."
Mr Mansfield pointed out he had been holding up the jacket in its evidence bag.
He said: "I wouldn't have bothered to give an explanation of the item if it was being held up out of a bag."
The trial continues