Bodies of servicemen return to UK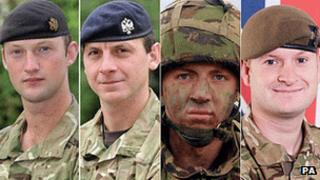 Hundreds of people have lined the streets to pay their respects as the bodies of four British soldiers killed in Afghanistan were returned to the UK.
L/Cpl Peter Eustace, Lt David Boyce, L/Cpl Richard Scanlon and Private Thomas Lake were killed last week in three separate explosions.
Their bodies were repatriated at RAF Brize Norton in Oxfordshire.
A private ceremony for their families was held at the new purpose-built repatriation centre on the airbase.
The cortege then left on its way to the John Radcliffe Hospital in Oxford.
It was escorted at walking pace past the memorial garden in the nearby village of Carterton, where family, friends and locals had gathered and a Union flag was hung at half mast.
As the procession paused, many in the crowd stepped forward to lay flowers on top on the hearses bearing the men's coffins.
The silence was broken by applause as the cars resumed their journey towards the hospital.
Pte Lake's death took the number of British troops who have died since operations in Afghanistan began in 2001 to 389.
L/Cpl Eustace, of the 2nd Battalion The Rifles, was serving with Delhi Company of the 1st Yorkshire Regiment, attached to the Combined Force when he was killed in Nahr-e Saraj in Helmand Province.
His family said the 25-year-old from Liverpool was "loved by all" and would be missed.
Lt Boyce, 25, from Welwyn Garden City, Hertfordshire, and L/Cpl Scanlon, 31, from Rhymney, Caerphilly, were both serving with the 1st The Queen's Dragoons Guards.
They were caught in an explosion while in the Yakchal region of Nahr-e Saraj, Helmand.
Lt Boyce's family said he had brought sunshine into the lives of all the people he knew. L/Cpl Scanlon's family described him as "a fun-loving young man who enjoyed life to the full".
The family of Pte Lake, 29, from Watford, said they would remember him as "a loyal, fun-loving action man" who was always the first to try anything new.
He was serving with 1st Battalion The Princess of Wales's Royal Regiment when he was killed by an improvised explosive device while on patrol in Jamal Kowi in Nahr-e Saraj district of central Helmand.