Leveson Inquiry: Max Mosley describes outrage at story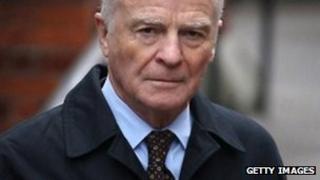 Ex-motorsport head Max Mosley has spoken of his outrage over the impact an article falsely saying an orgy he went to was Nazi-themed had on his son.
He told an inquiry into media ethics his son, who has since died, resumed taking drugs as he could not bear having seen the photographs.
He also said invasion of privacy was "worse than burglary" because the damage could never be repaired.
Harry Potter author JK Rowling and actress Sienna Miller also appeared.
Mr Mosley, the former International Automobile Federation president, won £60,000 in damages from the News of the World in 2008 after a judge ruled that its story alleging he had a "sick Nazi orgy" had invaded his right to privacy.
He has since campaigned for the reform of celebrity privacy laws, arguing that the media should be required to notify public figures before running articles about them.
'Outrageous'
Giving evidence at the inquiry at the Royal Courts of Justice in London, Mr Mosley said he was given no warning that the News of the World's story was going to be published: "I first learnt of it about 10 o'clock on a Sunday morning."
He told the inquiry the Nazi allegations "were completely untrue and enormously damaging" and left him outraged.
Mr Mosley, who is the son of the late Sir Oswald Mosley, the founder of the British Union of Fascists, also spoke about his son's death after the story.
He said Alexander Mosley had been extremely intelligent but had suffered from depression and used drugs to cope with it. He added that he had tried to overcome his addiction.
"He was struggling with it - he had overcome his problem - and the News of the World story had the most devastating effect on him," he said.
Mr Mosley told the inquiry it would be wrong to say his son committed suicide. But he said: "Like many people on the hard drugs it's extremely dangerous - you make a small mistake and you die, and that's what happened."
He went on to say it was outrageous that photographers had subsequently intruded on his son's funeral.
"You are in a desperate situation," he said, "there was no sense of 'this matters - these people are human beings'".
Mr Mosley said a second story, purporting to be the account of a woman who had filmed the orgy, was later found to have been written by News of the World reporter Neville Thurlbeck, who he said had forced the woman to put her name to it.
He also described a tape in which Mr Thurlbeck can be heard trying to persuade a woman at the orgy to do a "sieg heil" salute.
"He simply invented the entire article," he said.
'Risky and unpleasant'
Mr Mosley also explained his decision to sue and said he had been told there was "no certainty in litigation".
He said he was informed that legal action could cost up to a million pounds, would lead to details of the article being discussed again in court and that at the end of the process there was no way of changing the fact the article had been published.
"Indeed by going to court I was augmenting, to a degree, what the public already knew about it," he said.
But Mr Mosley said he was determined to show that News of the World were liars. "I thought, if I don't do this, who's going to?" he said.
"The only way to do that was to put up with this extremely risky and unpleasant process."
Mr Mosley told the inquiry the tabloid press appeared to follow an outdated definition of what was in the public interest, believing they could "pillory someone" if they did something of which they disapproved.
"The problem is that if you could breach privacy merely because you disapproved of what someone was doing or it was not to your taste, well then we'd be all over the place.
"The rational thing is to say, provided it's adults and provided it's in private and provided everybody consents - genuinely consults - then it's nobody else's business," he said.
Mr Mosley added that an attack by Daily Mail editor-in-chief Paul Dacre on Mr Justice Eady's ruling in his case stemmed from a "completely old-fashioned idea - it dates from the days when it was illegal to be gay".
Mr Dacre's comment that he was guilty of unimaginable depravity reflected badly on the journalist's imagination, he added.
Earlier, actress Sienna Miller earlier told the inquiry that when personal stories began appearing in the media in 2005 and 2006, she began questioning those close to her.
Lord Justice Leveson's inquiry is looking at the "culture, practices and ethics of the media" and whether the self-regulation of the press works.
A second phase of the inquiry will commence after the conclusion of a police investigation into News of the World phone hacking and any resultant prosecutions. It will examine the extent of unlawful conduct by the press and look at the police's initial hacking investigation.