George Michael postpones shows because of pneumonia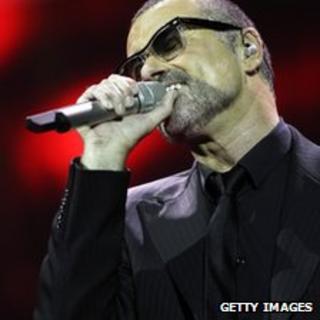 George Michael has postponed a series of concerts, including two this weekend in Cardiff, after being taken to hospital for treatment for pneumonia.
The singer, 48, had been due to appear in Vienna as part of his Symphonica tour on Monday but cancelled two hours before it was due to start.
He is reportedly being treated at a hospital in the Austrian capital.
His publicist said performances in Vienna, Strasbourg and at Cardiff's Motorpoint Arena would be rescheduled.
Connie Filippello said dates would be provided when available.
Austria's state broadcaster is reporting that the former Wham star is being treated in Vienna's AKH hospital.
Michael's European tour of Symphonica kicked off in Prague in August and was originally meant to include 47 dates.
It has seen the Careless Whisper singer return to live performance accompanied by a 41-piece symphony orchestra.
'Re-energised'
He had previously claimed his 2008 concerts would be his last live shows but announced the Symphonica tour after serving a short jail term last year for crashing his car in London while under the influence of cannabis.
At the press launch in May he said: "I felt very re-energised after my recent troubles.
"I think musically this tour and album will be surprising because I'm being far more true to myself."
In October, a viral infection caused Michael to pull out of a show at the Royal Albert Hall in London, following advice from doctors.
Ticketholders were emailed on Wednesday to tell them the concert would be rescheduled for 2 May at the same venue.
Earlier this month Michael played a gig at the Royal Opera House in London, to raise money for Sir Elton John's Aids Foundation.