Stephen Lawrence probe scientist 'made errors'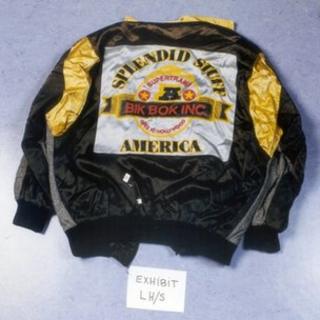 A forensic scientist made errors in notes about clothes seized from a man suspected of murdering Stephen Lawrence, the Old Bailey has heard.
Yvonne Turner mislabelled forms related to a jacket and cardigan seized from the home of Gary Dobson, 36, leaving some case records hard to find.
Prosecutors say evidence on his clothes and those of David Norris, 35, link them to the 1993 south London killing.
Mr Dobson and Mr Norris deny murder and say police contaminated the evidence.
Mr Lawrence, 18, a black A-level student, was forced to the ground by a group of white youths at a bus stop in Eltham and then stabbed twice, the prosecution says.
The court has heard the two defendants, from south London, can be linked to the murder through blood, hair and fibres recovered from their clothes.
Prosecutors say they could only have come from Mr Lawrence and the scene of the 1993 stabbing. The microscopic evidence was uncovered during a cold case review.
However, the defendants say the evidence was transferred from Mr Lawrence's belongings onto the men's clothing because of police handling errors.
In her evidence, Ms Turner said she inadvertently labelled the clothing with the case number of an unrelated robbery, meaning some case records had been difficult to find for up to two years.
"I wasn't concentrating and I wasn't focused at the stage when I wrote the case number in," she said.
Another scientist later spotted the error and the label had been corrected by August 1995, the court heard.
'Hard to remember'
In cross-examination by Timothy Roberts QC, for Mr Dobson, Ms Turner admitted the errors in her notes were "very irregular".
She also wrote in block capitals that no tapings - when sticky tape is used to collect fibres - were made. However the jury was shown that the testing had been done, although Ms Turner could not be sure when.
She said that she could not remember if she and boss Adrian Wain had initially decided against testing for fibres on the suspect's clothes.
"A strategy was not written down like it is nowadays, so it's hard to remember what was said," Ms Turner told the court.
Robert Crane, a detective constable looking after exhibits in the investigation, said items seized from the two men on trial, and three other suspects, had been stored in the same disused police cell used to hold Mr Lawrence's clothing.
But the exhibits from the suspects were placed in the cell after Mr Lawrence's belongings had been sent to the laboratory - and they were also put in different locations in the room. All the evidence bags had been sealed, he said.
Ms Turner agreed with Mr Norris's lawyer, Stephen Batten QC, that in 1993 forensic staff were not concerned with possible contaminants on the outside of evidence bags.
Instead, it was "common practice" to put bags containing the victim's clothing in a larger bag with suspects' items, she said.
The prosecution's case is that blood soaked into Mr Dobson's jacket that could only have got there when it was wet and that its DNA profile matches that of Stephen Lawrence.
Fibres from Mr Lawrence's clothing were allegedly recovered in tapings of the jacket and top taken from Mr Norris. Investigators also say they recovered hair from Mr Norris's jeans that came from Mr Lawrence.
The trial continues.