UK 'may return Afghan asylum children next year'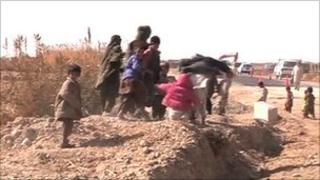 Afghan children whose asylum claims have failed may be sent back to Kabul by the UK from next year.
European refugee groups have warned they risk ending up in orphanages in a war zone.
One children's rights organisation says the move may be unlawful because of a recent Supreme Court ruling.
But the Home Office, which is working with three other European countries, says it will affect only 16- and 17-year-olds whose families can be traced.
More Afghan children than any other nationality seek asylum in the UK. Last year they made 547 applications.
At present, unaccompanied asylum-seeking children (UASC) from Afghanistan are not removed from the UK before their 18th birthday.
Most have their asylum applications refused but are given discretionary leave to remain. Those under 16 usually go into foster or other local authority care.
Traffickers
It costs £95 a day to look after a young asylum seeker.
The government is concerned that more are being sent to the UK by their families, risking danger and hardship at the hands of traffickers.
Last year the Home Office tried and failed to set up a system to return 16- and 17-year-olds to Afghanistan.
But BBC News has learned it has now teamed up with the governments of Sweden, Norway and the Netherlands to create the European Return Platform for Unaccompanied Minors (ERPUM).
It hopes to start repatriations next year, with 100 children going through the process by 2014.
It has received an £845,000 grant from the European Union.
ERPUM says its objectives are "to develop methods and contacts in order to find the parents of the minors who shall return home, but also to find safe and adequate shelter in the country of origin".
"No minor shall return home without a safe and orderly reception," said a spokesman.
It says the International Organisation for Migration (IOM) "will be the co-ordinator".
But BBC News has learned of serious objections to the scheme.
An IOM spokesman said: "IOM is not and will not be involved with the return of unaccompanied minors under the ERPUM project."
The Afghan ministry of refugees opposes all forced returns.
In statement it said: "We don't support the repatriation of children because a lot of them left at an early age so we are not sure we can find their parents or relatives.
"They could fall into the hands of drug addicts, Taliban or criminal gangs."
According to a report commissioned by the EU and obtained by BBC News, the Afghan government has not accepted any returned children "because of the security situation and a lack of a satisfactory child protection system".
'Little training'
The report also states "there are no reintegration programmes in place" and "the authorities seem to receive little or no training on children's' rights".
ECRE - The European Council on Refugees and Exiles - says family tracing is almost impossible and the risk is that "children are returned to orphanages in a war zone".
Some claim the ERPUM is being used to send a message to Afghanistan that children are not welcome in the West.
Syd Bolton, a lawyer at the Coram Children's Legal Centre in London, says a recent judgement by the Supreme Court means any decision about a child seeking asylum must be taken "in the best interests of the child".
"An ongoing war situation is not a place to experiment with the lives of children," he added.
In a statement the Home Office said: "We have taken no decision on whether we will return any unaccompanied minors to Afghanistan.
"Returns will only occur if their families can be located or appropriate support and care arrangements are in place."