Fake car insurance brokers 'defraud 20,000 drivers'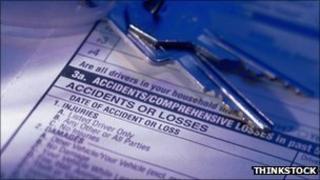 Twenty thousand motorists could be driving around uninsured after buying fraudulent or even fake cover, the BBC has learned.
The multi-million pound scam is operated by fraudsters known in the industry as "ghost brokers".
Insurance companies say the conmen target those on a budget and looking for a cheap deal.
A new City of London police fraud unit has pledged to "tackle the problem head-on".
The "ghost brokers" operate through websites or small ads offering cheap insurance.
They target young motorists who face rocketing premiums and communities where English is not the first language and where there is a lack of understanding about the way the insurance industry works.
In some cases they issue completely fictitious policies.
In other cases they apply to genuine insurance companies for cover on the customer's behalf, but alter personal details such as age and address which would otherwise push up the cost.
Kate (not her real name), an 18-year-old student from the Midlands, was quoted £4,000 to get insurance on a small Ford Fiesta.
'So cheap'
So she was delighted when a friend said her boyfriend knew someone who could arrange a cheaper deal for £2,000 with a down payment of £700 in cash.
She was told the insurance would be sorted out by someone working for an insurance company who could get a staff discount.
"We met behind some flats and he pulled up in a dodgy car and I was thinking: 'I am not giving him £700 of my money right now,'" she said.
"My mate was saying: 'No it's all right, it's ok.'
"So I asked a couple of questions like 'Is it legit?' and 'Why is it so cheap?'
"He said: 'No, it's fine.'"
She handed over £700 and was to pay a first instalment of £70.
He used a laptop to take down her details and emailed through the policy.
"The payment came out of my bank but it was for more than the £70. I was scared to phone the insurance company in case they said: 'It's fraud and you are in trouble,'" she said.
She later discovered the "ghost broker" had misrepresented her personal details, telling the insurance company she was 48 years old and had a five-year no-claims bonus, despite the fact that she had only been driving for a year.
He also lied about her occupation, telling the insurance company she was a driving instructor.
Axa, one of the largest UK insurance companies, estimates about 20,000 motorists may be driving on a fraudulently obtained policy.
Some motorists may be completely innocent victims of the "ghost brokers", while others may have agreed to some details being changed.
'Emerging threat'
Steve Gaywood, head of counter-fraud at Axa, said: "We all know car insurance premiums have risen in the last couple of years, and for some motorists it is difficult to afford or find.
"It seems that some unscrupulous individuals are using this as a hook to con people into buying insurance that isn't valid."
Det Supt Bob Wishart of the City of London police said: "Ghost broking is an emerging threat within the insurance fraud arena, costing the industry millions of pounds, leaving companies exposed and meaning thousands of people are unknowingly uninsured.
"This new criminality is particularly prevalent in motor insurance, with fraudsters looking to capitalise on what is a compulsory and sometimes costly product.
"We will soon have a new police unit specifically to tackle insurance fraud. Ghost broking is a growing part of this problem and tackling it head-on will be a priority."
You can hear the full report on 5 live Investigates on Sunday 27 November at 2100 GMT on BBC Radio 5 live.
You can also listen again on the BBC iPlayer or by downloading the 5 live Investigates podcast.