RAF head says Afghan civil war possible when Nato leaves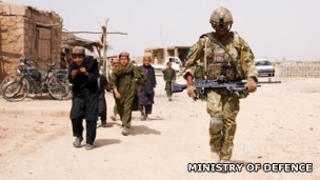 The head of the Royal Air Force has acknowledged that civil war could break out in Afghanistan when Nato withdraws.
Nato countries with troops in Afghanistan have agreed to hand control to Afghan forces by 2015.
Air Chief Marshal Sir Stephen Dalton told BBC Radio 4's the World at One that the success of the handover could not be judged until at least 2020.
He said civil war was "a possibility" but that local forces were increasingly showing they could defend their future.
Air Chief Marshal Dalton said it would be five to 10 years after international troops withdrew before it would be possible to look back and say: "Did we do enough to provide them the space and opportunity to take on that governance and fulfil those roles?"
Asked whether the country could be in civil war by that time, he replied: "Of course, that is always a possibility."
But he said: "Apart from the odd spectacular - which will happen as we develop the full capability within the Afghan national security forces - we can see more and more examples of where there is capability to defend and to safeguard their own future."
'Learn from lessons'
Air Chief Marshal Dalton told the programme mistakes had been made during the air campaign in Afghanistan, some resulting in civilian deaths.
"Mistakes do get made but what we have to make sure then is we understand what mistakes were made and to learn from those lessons."
Air Chief Marshal Dalton also said Royal Air Force (RAF) aircraft could be asked to provide support to the Afghan government beyond the Nato withdrawal date.
"I am not sure exactly how long we will be required to stay and help. It would certainly be a possibility and an opportunity which our government will have to make a decision on on what it needs to do," he said.