London 2012: Elbow compose BBC's Olympic theme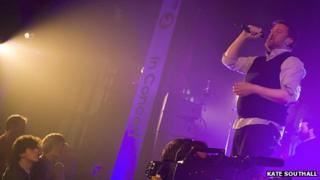 The Mercury Music Prize-winning band Elbow are to record the BBC's soundtrack for the London 2012 Olympic Games, it has been announced.
They have composed a six-minute track called First Steps, with a choir taking on the vocals.
Lead singer Guy Garvey said the band were "over the moon" to get the role, and they felt "real responsibility".
The news came as the BBC announced its cultural programmes for the Olympics and the London 2012 Festival.
They include a season of Shakespeare and London-inspired programmes, Music Nation and Radio 1's Hackney Weekend 2012.
The Elbow theme will be used by the BBC across its Olympic content.
Guy Garvey said the band had been working on the track secretly in Salford.
He said: "It's a real challenge because it's designed to fit important images nationally and people's endeavours, people have trained their whole lives for that moment.
"For our music to be sound-tracking it, there was a big feeling of responsibility but also we're just dead proud to be doing it. And strange as well with none of us really being athletic."
He said the band had decided to use a choir instead of Garvey's vocal, a "distinctive" part of Elbow's music.
"I've written something called First Steps. The song can be parents looking with pride at their kid walking for the first time," he said.
"But also those hopes and aspirations - marvelling at what's going on, the human element of it - translates quite well to watching your finest athletes doing their very best."
The BBC's Director of London 2012 Roger Mosey said Elbow's piece had yet to be recorded. The first bars of it would be aired around the time of the torch relay beginning in May 2012, with the full work revealed near to the Olympic Games opening ceremony.
He said: "It should be just about the most heard piece of music in 2012."
Writing in his blog, he added: "This builds on our recent tradition of using great British contemporary artists to deliver our music, as we did with Damon Albarn in 2008; and we reckon Elbow have a unique combination of credibility - hence their Mercury Prize - with a style that can be enjoyed by people of all ages."
In 2011 Elbow celebrate the 20th anniversary of their formation in Bury, Greater Manchester and in October they played a gig at Manchester Cathedral as part of BBC Radio 2's In Concert series.
The five-piece have been nominated for the Mercury Music Prize three times, including this year for the album Build a Rocket Boys. They won it in 2008 for their album The Seldom Seen Kid.
In 2009, they won two Ivor Novello awards for songs One Day Like This and Grounds for Divorce. That year they also played two ground-breaking concerts with Manchester's Halle Orchestra.
BBC Radio 3's Music Matters host and Guardian writer Tom Service said artists had to "get it right" at the times when the spectacles of sport and music "come together in harmony" as with Freddie Mercury and Montserrat Caballe's Barcelona, used at the 1992 Games, or the Three Tenors performing at football's Italia '90 World Cup.
He said Elbow should produce "the perfect fusion of an anthem with a lot of musical substance to it".
"And it's a chance to plug into communities and show how music really matters to people and connects them with orchestras and rock bands - for audiences in pubs as well as in stadiums and concert halls," he said.
He added the huge undertaking was writing a short piece of music with artistic integrity that summed up the occasion: "If you think about Barcelona or Puccini for the Three Tenors, it has to be great music, that's the competition it's up against.
"Those things are remembered because of the event but also because it's a great piece of music."
The track will follow in the footsteps of previous BBC Olympic themes including the Monkey theme by Albarn's group Gorillaz for Beijing 2008.
For Athens 2004, producers took inspiration from the country's classical heritage while Sydney 2000 featured a flight around the city's harbour landmarks.
Images of a flamenco dancer, matador and athletes were laid over Freddie Mercury and Montserrat Caballé's duet for Barcelona 1992, while Seoul 1988 and Los Angeles 1984 both used the theme from Chariots of Fire.
Atlanta 1996 used footage from the film Gone with the Wind and the montage cannot be republished here.