London 2012: Games to be shown on big screens around Britain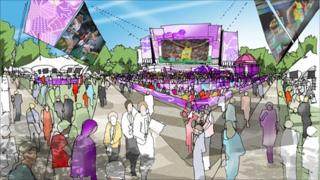 Three major open-air London locations will all have big screens showing next year's Olympics and Paralympics, with a series of events to go alongside them.
Hyde Park, Trafalgar Square and Victoria Park in Tower Hamlets will also play host to live music and other entertainment as part of London Live.
These are added to the 21 BBC Big Screens already announced around the UK, two of which are also in London.
Mayor of London Boris Johnson said: "We are creating a jam-packed programme."
He added: "These exciting events will show London at its very best and ensure as many people as possible across the capital feel a part of the celebrations."
The event in Hyde Park will have free entry to its series of large screens and activities between 28 July and 11 August, although tickets will be sold for the showing of the opening and closing ceremonies of the Olympics on 27 July and 12 August.
Victoria Park will adopt a "sports cafe" approach with two big screens and a series of smaller ones. There will also be the chance to try out a variety of sports and some evening concerts. Entry to the park is free every day.
People who want to guarantee entry will be able to pre-book as many as four tickets per person for either park, subject to a booking fee.
However, that will not be possible on the days of the ceremonies, or when the Olympic triathlon competition takes place in Hyde Park.
London Live will move to Trafalgar Square for the Paralympics from 29 August to 9 September, where again live coverage of the Games will be shown on a giant screen. There will also be sporting activity, cultural entertainment and evening concerts.
The BBC Big Screens are a collaboration between the BBC, Locog and UK local authorities.
The areas around the screens will become live sites and will have live coverage, local content, and news and events related to both sets of Games.
As well as London, other locations include Belfast, Birmingham, Cardiff, Edinburgh and Manchester.
Transport for London have been preparing to cope with the crowds at the Games, as well as the Live Sites.
Mark Evers, Director of Games Transport at TfL, told the BBC: "From the early planning stages we have been working very closely with all our 2012 partners who keep us fully informed about the Live Sites.
"This month we will also publish detailed 'hotspot' maps and alternative travel options to enable businesses and individuals to plan ahead and make the most of all the Games have to offer next summer."
The capacity in Hyde Park for the celebration concerts around the opening and closing ceremonies will be up to 80,000, subject to licence. On the other days the capacity will be up to 50,000 with Victoria Park able to hold between 20,000 and 30,000 people each day and Trafalgar Square up to 10,000.
The Greater London Authority have plans in place if any site reaches capacity.
Information would be placed on the London Live website, on the transport network and also via a mobile phone application.
A one in-one out policy will also be applied if sites become full, but because they will be open for up to 15 hours a day, there is expected to be a high turnover of visitors.
The GLA added that the right levels of security will be in place, plans for which are still being finalised.