Salman Butt and Mohammad Amir lose sentence appeal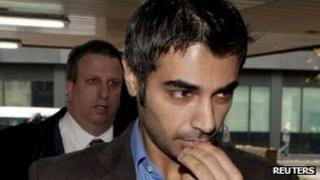 Ex-Pakistan cricket captain Salman Butt and bowler Mohammad Amir have lost their appeals against their sentences for a spot-fixing scam.
The pair were not present at the Court of Appeal in London for the proceedings before the Lord Chief Justice and two other judges.
Butt, 27, was jailed for 30 months and Amir, 19, received a six-month term.
They were sentenced over a plot to bowl deliberate no-balls in a Test match against England.
Bowler Mohammad Asif, 28, and cricket agent Mazhar Majeed were also jailed.
The judges rejected a plea that Butt's sentence was "manifestly excessive" and the argument that Amir should have been given a suspended sentence.
Lord Chief Justice Lord Judge said the corruption had been "carefully prepared" and the cricketers had betrayed their team, their country, their sport and the "followers of the game throughout the world".
If corruption continued then the enjoyment of those who watch cricket would "eventually be destroyed", Lord Judge said.
'Broken man'
Butt's lawyer Ali Bajwa had argued his sentence was "out of proportion to the seriousness of the offence that was committed".
Mr Bajwa described Butt as a broken man in a state of "ruin and disgrace", adding that the very fact of imprisonment "amounted to exceptional punishment".
Amir's lawyer Henry Blaxland argued for a suspended sentence that would allow his immediate release.
Amir would have remained in the UK to carry out any community service, Mr Blaxland added.
Butt was jailed for his role as the "orchestrator" of the plot to bowl deliberate no-balls in the Test at the Lord's cricket ground in London last summer.
Amir was detained for six months in a young offenders institution after admitting bowling two intentional no-balls at Lord's.
The men were arrested after the fourth Test between Pakistan and England in August 2010.
An undercover News of the World reporter had paid Majeed £150,000 for details of the precise timing of no-balls, which were duly delivered as promised.
Such actions can be valuable on the spot-fixing betting market, which involves betting on the finer details of sporting contests.
In February, all three cricketers were banned from playing for five years by the International Cricket Council. They are appealing against the suspensions.