Alan Johnson 'affair' bodyguard sacked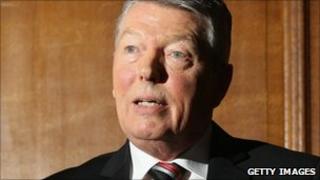 A police bodyguard to former Home Secretary Alan Johnson has been sacked after an inquiry into an alleged affair with the Labour MP's wife.
PC Paul Rice, 45, was dismissed by the Metropolitan Police, which condemned him for damaging its reputation.
Mr Johnson quit as shadow chancellor in January as allegations surrounding the affair became public.
PC Rice is thought to have worked for Theresa May since she took over at the Home Office in May 2010.
The specialist operations officer had been suspended in January.
In a Metropolitan Police statement, Commander Peter Spindler said the behaviour displayed by the officer was unacceptable and he had been "rightly sanctioned" for the "abuse of his position of trust".
"He has damaged the reputation of the Metropolitan Police Service and the specialist discipline in which he worked. By doing so he breached the high professional standards expected by the public and his colleagues," added Commander Spindler.
Mr Johnson's decision to quit his job as shadow chancellor came as a complete surprise at Westminster, even though he had suffered some criticism for his grasp of its more technical aspects.
He said he had "found it difficult" to cope with the responsibility at the same time as dealing with issues in his private life.
Mr Johnson, the MP for Hull West, is a former postman and trade union leader.
He has been married to his second wife Laura for almost 20 years and the couple have a 10-year-old son.