London 2012: Olympic volunteers' uniforms revealed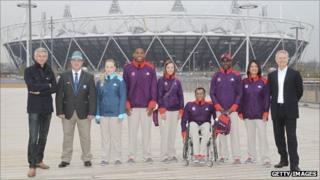 Uniforms for volunteers and technical officials for the 2012 Olympics have been revealed by the Games organisers.
The outfits will be worn by about 70,000 Games Maker volunteers, 6,000 staff and 4,500 technical officials.
The Games Maker outfit was inspired by the historic Grenadier Guards uniform, with influences from the 1948 Games, Wimbledon and Henley Regatta.
London 2012 organisers said the uniforms have a twist that reflects British quirkiness and modern design.
Each Games Maker will receive a jacket, polo shirt, trousers, trainers, socks, cap, bag, water bottle and an umbrella.
Each technical official uniform will come with jacket, pair of trousers or skirt, a shirt or blouse, a belt, a bag which can fit a laptop, a Trilby hat and a tie for men and a scarf for women.
The Games Maker uniform, which features Grenadier Guards red, was designed by London 2012 organisers, Locog, in association with sports manufacturer Adidas, and the colour scheme is aimed at allowing the wearer to stand out in a crowd.
Former Olympic triple jump champion turned London 2012 athletes ambassador Jonathan Edwards said: "You won't be able to move in London without seeing someone in one of these uniforms."
Different-coloured epaulettes will identify specific groups, with white for medical staff, red for team leaders and green for anti-doping personnel.
Mr Edwards added: "The uniforms look good, they are a nice colour and the epaulettes and cuffs do stand out, which is important for visibility."
Games Makers volunteers at both the Olympics and Paralympics will have the same uniform, although the logo on the back of the jacket will change along with the t-shirt and hat.
The technical officials' uniform was designed by Locog in association with Next.
Key features include engraved buttons with Big Ben and the Houses of Parliament, embroidery under the collar featuring London's skyline and the officials' oath as a label. The suit's lining will feature iconic buildings in the capital including the Gherkin and the London Eye.
Technical officials may also wear a casual uniform designed by adidas, depending on their sport. This uniform is the same as the Games Maker uniforms but is in blue and white. International Federations will be able to use the epaulettes to carry the logo of their individual sports.
The uniform designers have aimed to ensure the garments are as sustainable as possible, using recycled or sustainable materials.
Locog said that all of the uniforms had been "produced in ways that reduce greenhouse gas emissions, minimise waste and other local environmental impacts, while also taking full account of responsible sourcing throughout the supply chain".
Paul Deighton, Locog's chief executive, said: "What we've come up with is a uniform which celebrates the best of Britain's heritage in a modern and sustainable way. Delivering the Games is hard work and so the uniform needs to be functional, however we also want our teams to wear it with pride. We showed it to them this morning and the response was incredibly enthusiastic."
Mr Deighton also praised the quality of the volunteers who will be working at the Games.
"We have a strong volunteer force," he said. "They are the absolute face of the Games. We had 250,000 applicants and interviewed 100,000 of them.
"A total of 30,000 have been offered and already accepted roles and they will make the difference between a good Games and a great Games. The people we have got are fantastic and you would not believe the quality of people who wanted to be involved.
"They are an extremely passionate and energetic group who will make the difference."
One volunteer, 27-year-old Helen Gist from London, told the BBC she relished the opportunity to get involved.
"I have lived in the area of the Olympic Park for the past five years so have seen how it has changed and been regenerated. The place is coming alive."
"I will be working in the Olympic Stadium as a Team Leader with workforce operations. I will look after the workers there and make sure they know their shift patterns and get their lunch vouchers."
Locog staff member Rheiss Brown, 20, is also working as a Games Maker. He told the BBC: "It's still to be defined what I will do but might be something around operations, logistics or sport.
"Words can't describe how I feel about having the Olympics in my home city. It's the biggest sporting event and to have it here - I couldn't ask for more."
Simon Cartwright, the global VP of Olympic sports for Adidas said that the uniforms included "perfect thermo regulation, light materials and the requirement that uniforms are practically adaptable for people with disabilities".
Games Makers will perform a variety of roles, including running information desks, distributing uniforms and working in the medical services team.
Everyone who has applied for a role will know by the end of this year whether or not they have been successful.
Those who receive a conditional offer will be asked to confirm their acceptance within two weeks, to allow Home Office and CRB checks to take place.
Training begins in February next year with training at the venues starting in April, which is also when the uniforms and passes will be given out.