Iraqi civilians win legal bid for torture inquiry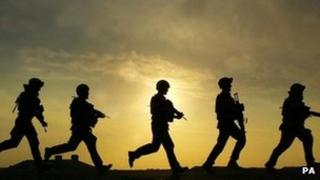 Over 100 Iraqi civilians have won a UK Court of Appeal battle in their bid for a new public inquiry into allegations of torture against British soldiers.
The High Court had previously backed government claims that an inquiry into whether abuse was systematic was not needed as a team had already been set up to look into the allegations.
But three appeal judges ordered the defence secretary to reconsider.
The Ministry of Defence said it would examine the judgment "very carefully".
Some 128 Iraqis complain of torture and inhuman and degrading treatment by British soldiers and interrogators in Iraq between March 2003 and December 2008.
Lead claimant Ali Zaki Mousa, from Basra, alleges he endured months of beatings and other abuse in the custody of British soldiers between 2006-07.
Last December the High Court ruled a fresh inquiry was unnecessary as the government had set up the Iraq Historic Allegations Team to investigate.
But appeal judges ruled that the IHAT lacked "practical independence" because it included members of the military police, who might themselves be accused of wrongdoing.
They also found that other inquiries had failed to fully meet Article 3 of the European Convention on Human Rights, which protects against inhuman and degrading treatment.
'Considering next steps'
A Ministry of Defence spokesman said: "We note that the Court of Appeal has not ordered a public inquiry but has asked the defence secretary to reconsider how to meet the investigative obligations.
We will examine the judgment very carefully and consider next steps."
Defence Secretary Philip Hammond has until 30 November to decide whether to challenge the ruling in the Supreme Court.
The Iraqi claimants are being represented by the Public Interest Lawyers (PIL) group.
PIL alleges that the abuse suffered by Mr Mousa was not an isolated incident but arose out of "widespread and systemic practices".
Phil Shiner, solicitor for the Iraqis, said the MoD was "deploying every dirty trick in the book" to avoid accountability.
Mr Shiner said: "The court has found that IHAT's practical independence is 'substantially compromised'.
"There must now be a judicial inquiry into the UK's detention policy in south-east Iraq. It is something we have been calling for since 2004.
"The MoD has deployed every dirty trick in the book to prevent accountability for the hundreds of torture and unlawful killings cases of Iraqi civilians.
"Now it has nowhere to hide."
'Confidence restored'
After the ruling, Mr Mousa said the judgment had restored Iraqi "confidence in the British people".
He said: "When we suffered a lot under the British Army and witnessed a catalogue of abuses, we had the impression that that is what Britain is."
But victory in the latest round of the legal battle had changed that impression, he said.
"We can see that there are the actions of the British soldiers and that is one thing; then there is British society and that is something else.
"It has restored our confidence in the British people."
Two public inquiries have already been launched into similar claims.
The first inquiry, into the death of 26-year-old hotel worker Baha Mousa in UK military custody in 2003, reported in September and blamed "corporate failure" at the MoD for the use of banned interrogation methods in Iraq.
And last November the MoD announced details of a second public hearing into allegations that 19-year-old Hamid Al-Sweady and up to 19 other Iraqis were unlawfully killed and others ill-treated at a British base in May 2004.