RAC fears over lack of roads spending as cars increase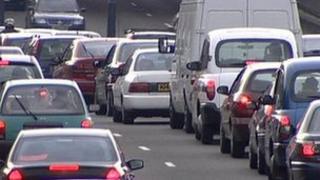 Motorists face longer delays on Britain's roads because of more cars and lower transport infrastructure spending, says the RAC Foundation.
Four million more cars will be on the roads in the next 25 years, says a report by the foundation.
But the report warns: "Ministers have not explained what plans they have to cope with the bleak picture painted by their own numbers".
Roads Minister Mike Penning said £4bn was earmarked for various projects.
The report foretells a 43% rise in traffic volume by 2035, with the biggest increase in the East Midlands.
The foundation, working with consultancy group Arup, identified 96 road schemes which were "currently sitting on the Department for Transport's shelves".
The foundation claimed the top 10 projects on this list would offer significant returns on their investments - more than £6 for every £1 invested.
RAC Foundation director Professor Stephen Glaister said: "Forget about Plan B, ministers do not even have a Plan A for dealing with the awful conditions forecast for the roads in the years ahead. It is a case of jams today, and even more jams tomorrow.
"The Department for Transport's own figures show that by 2035 traffic is set to rise by almost 50% and delays by more than 50%. And these are only average figures."
Mr Penning said: "Transport investment was treated as a priority for government in the spending review and we have committed £4 billion on Highways Agency major projects, capital maintenance and enhancements.
"This substantial investment, alongside funding for the local road network, will drive economic growth and boost the UK economy."
He added: "An independent review of the Highways Agency is also under way to examine options for improving the efficiency, effectiveness and performance of our strategic road network."