Why is free milk for children such a hot topic?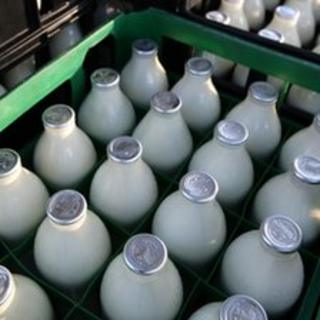 The government has ordered a review of the scheme offering free milk to under-fives - ministers say overcharging by middlemen means paying too much for the milk. Why is this issue so sensitive for politicians?
Glass bottles with shiny silver tops - served warm in summer and frozen in the winter - drinking free milk at primary school is a vivid childhood memory for many people.
It perhaps explains why Margaret Thatcher is still pilloried as a "milk snatcher" 40 years after she tried to end free milk for over-sevens.
Last year, David Cameron moved quickly to oppose a suggestion by health minister Anne Milton that the scheme could be abandoned.
The Nursery Milk scheme, which allows children in approved day care to receive 189ml or a third of a pint of milk free each day up until their fifth birthday, dates back to the Labour government of 1946.
The idea was to give children an extra nutritional boost at a time when food was in short supply and rationed.
But on becoming prime minister in 1970, Edward Heath asked all of his ministers to find budget cuts in their departments, as David Cameron did last year.
Angry protests
Mrs Thatcher, the then education minister, was asked to find savings of £9m, some £90m in today's money. In 1971, free milk for primary school children cost £14m a year - twice as much as was being spent on school books.
Her biographer, John Campbell, said she took the view it was more important to spend money on buildings and books. She thought things like free school meals and milk were for social services and nothing to do with education.
As she explained in 1971: "Many, many mothers can provide their children with milk or give them a certain amount to take to school, say 10p a week to buy their milk. What they cannot do is to see that their children are taught in the proper buildings.
"Many children are but many are sent to school in very bad conditions - I think it is our first job to get those right."
In 1968, Labour had cut milk for secondary pupils, so she thought the move was an extension of that, which had been fairly uncontroversial.
But Labour MPs launched an assault on the proposal and the Sun, then a largely Labour-supporting newspaper, joined in, calling her the most unpopular woman in the country. She faced angry protests and could only visit schools with a police escort.
Speaking in parliament at the time, one Labour MP, Willie Hamilton, said she was acting like Mrs Scrooge with a painted face while Gerald Kauffman said she was literally taking food out of the mouths of children.
Plenty of food
Labour's education spokesman Edward Short reminisced: "I said I had been in Parliament for 20 years and it was the meanest, most unworthy bill I had seen in that time. To withdraw milk from primary school children, how mean can you get?"
In parliament, he said as a schoolteacher on Tyneside in 1931 he had seen children die because they were malnourished.
But her proposals were implemented and the scheme was further curtailed to the under-fives while she was prime minister in 1980.
In 2010, the issue was back in the spotlight when health minister Anne Milton suggested in a leaked letter to Scottish Public Health Minister Shona Robison that the government was planning to end the scheme by April 2011.
She admitted ending the scheme was "highly controversial" but said the programme had "become increasingly outdated" and its cost had almost doubled in the last five years - with the cost in England at nearly £50m and rising to £59m in 2011-12.
It was an idea Downing Street said Mr Cameron "did not like".
The School Milk Campaign says with one child in three in Britain going to school without breakfast, a glass of milk in the morning can provide a much-needed boost.
The government agrees, rejecting suggestions the scheme could be scrapped twice in the past year - perhaps meaning drinking milk with a straw will continue to feature in the memories of small children for years to come.