Newspaper review: Europe rift considered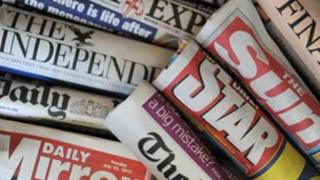 The Germans have declared war on the pound, according to the Daily Express.
The Daily Telegraph explains Germany's finance minister has predicted that Britain will join the single currency "faster than people think."
The Daily Star says this "bizarre" statement came as David Cameron met Germany's Chancellor Angela Merkel in Berlin and agreed "virtually nothing."
The Independent believes cracks between the two countries are widening as they try to tackle the eurozone crisis.
'Poles apart'
The Sun's take was that the pair emerged from their talks to declare that they "pretty much agreed on everything - apart from how to get out of the debt crisis".
"Which was the point of their meeting in the first place," it says.
"Just good friends, but poles apart" is the Guardian's assessment.
The Times says Mr Cameron's call for a "big bazooka" to solve the crisis misfired when the pair failed to find and agreement on their divisions.
Strike action
The Independent says more than two million public sector workers are likely to walk out later this month.
It comes after the NASUWT teaching union becoming the latest to join the TUC day of action.
The Daily Telegraph says economists are estimating it will be the biggest single day of industrial unrest since the Winter of Discontent.
And it says it will cost the country at least a hundred million pounds, making the economy even worse.
Daybreak-up
The Daily Mirror reports that ITV's breakfast show, Daybreak, has fired the pair of former BBC presenters because they failed to boost ratings.
The paper says Adrian Chiles is prepared to admit that he's been axed.
But his co-presenter Christine Bleakley wants it to be said that she's leaving for other projects.
But the Sun notes that she has already found a new job - she'll be taking over as the presenter of ITV's Dancing On Ice.