Roman Abramovich 'paid off loan' for Boris Berezovsky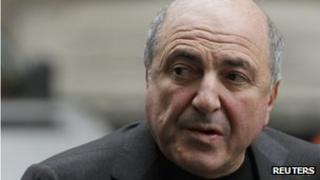 Roman Abramovich agreed to pay off an £8.5m loan made to Boris Berezovsky, a High Court judge has heard.
Russian metals tycoon Oleg Deripaska said Chelsea Football Club owner Mr Abramovich agreed to "take care" of the loan he made to Mr Berezovsky.
He was giving evidence in a trial at the Commercial Court in London where Mr Berezovsky is suing Mr Abramovich.
Mr Abramovich denies allegations he "intimidated" Mr Berezovsky into selling shares below their true worth.
Billionaire Mr Deripaska told Mrs Justice Gloster he handed over the loan for a property in England after Mr Berezovsky offered to "use his influence" to "tone down" his Russian television station's coverage of "problems in the aluminium industry".
Mr Deripaska, 43, said Mr Berezovsky was "not in a hurry to repay" and nearly three years later Mr Abramovich agreed to "take care of the debt" during a meeting at the Dorchester Hotel in London.
He told the court he spoke to Mr Berezovsky, who ran Russian television station ORT, after a number of "negative" reports about "aluminium wars".
In a written witness statement Mr Deripaska said: "I had spoken with Mr Boris Berezovsky about reducing ORT's coverage of the problems in the aluminium industry.
"Mr Berezovsky offered to use his influence to ensure ORT's coverage was toned down. In return, on 17 October 1997, one of my companies... loaned £8,500,000 (with interest at 7% per annum) to a company owned and controlled by Mr Berezovsky."
Mr Deripaska said he was initially grateful but by 2000 "had strong suspicions that he had in fact encouraged the negative coverage so he had a means of exerting pressure on me".
Mr Berezovsky, 65, is suing Mr Abramovich for £3bn.
Mr Abramovich, 45, denies the allegations and denies Mr Berezovsky is entitled to damages.
The case continues.