Hugh Grant injunction due to 'unbearable' paparazzi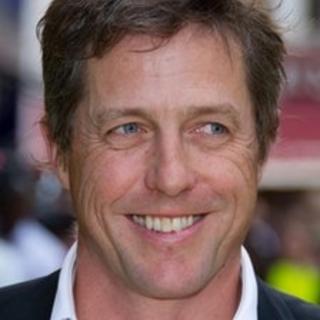 An injunction was granted to the mother of actor Hugh Grant's baby daughter because paparazzi were making her life "unbearable", a judge has explained.
Mr Justice Tugendhat said Chinese actress Tinglan Hong said she could not leave her home without being followed.
The injunction, issued on 11 November, forbids photographs being taken outside her home or in the street.
The High Court judge said she had to change her phone number after receiving threatening calls from journalists.
She had complained there were constantly photographers waiting outside, he added.
The identity of the defendants are unknown so the court order was issued against XYZ and others as the "person or persons responsible for taking photographs of the claimants outside their home and in the street during November 2011".
Mr Justice Tugendhat said the baby, who was born in September, was referred to in the judgment as KLM, because "she has not yet been formally named" and to keep her identity private.
He said Ms Hong "states that since the birth of her child her life has become unbearable".
No consent
The judge added: "While Hugh Grant is very well known, the first claimant [Ms Hong] has never sought any publicity or been known to the public for any reason.
"She and Hugh Grant did their best to keep private the fact that the second claimant was their child and do not know how the information reached the public domain."
The News of the World published a front page article on 8 April entitled "Hugh's Secret Girl," the judge said.
He added: "It was illustrated by photographs which the first claimant recognised as having been taken as long ago as January 2011.
"At that time she had no idea that she was being followed and being photographed without her knowledge."
The judge also explained how Ms Hong received a number of threatening phonecalls after Mr Grant appeared on BBC's Question Time, in which he discussed the phone hacking scandal.
He said she was "terrified" and "had no idea how anyone had had her telephone number". She has since had to change her number.
Frightened to drive
The judge said Ms Hong "has not been able to take her daughter outside" and had to cover her with a blanket when she took her to a doctor on 10 November.
"On their way back visiting the doctor they were followed. She had to call her mother for assistance in returning to the house."
Ms Hong was "unable to look after her daughter in a normal way", said the judge.
"She has had to cancel appointments, including ones for her child. She is frightened to drive with her child because the distraction makes it unsafe."
The judge also said she had complained to the Press Complaints Commission through her solicitor Mark Thomson.
In Mr Thomson's witness statement he explains that Mr Grant told him he approached photographers outside Ms Hong's house on 3 November.
He said he asked the photographers if there "was anything he could do or say to make them leave a new and frightened young mother in peace".
"They said 'show us the baby'. He refused. He asked if they thought it was acceptable for grown men to be harassing and frightening a mother and baby for commercial profit.
"They shrugged and took more pictures," the solictor's statement read.
Mr Grant is one of thousands of people whose phones are believed to have been hacked by the now-closed News of the World newspaper. He had joined the Hacked Off campaign which called for a public inquiry into the scandal.
The evidence of the phone calls to his girlfriend was presented to the judge-led Leveson Inquiry, which is examining standards and ethics in journalism in the wake of the phone-hacking scandal, by his lawyer on Wednesday.