Ministry of Defence technical advisers 'cost £564m'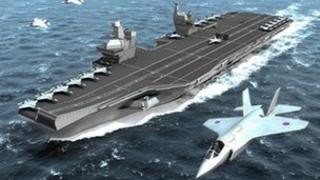 Defence officials spent £564m which had been earmarked for equipment on technical advice, a report suggests.
Civil servants made little attempt to ensure value, an internal audit of defence contracts since 2009 found.
Defence Secretary Philip Hammond blamed "a culture of sloppiness" at the MoD, while the shadow defence secretary described the findings as "concerning".
The MoD said it was now "tightening the approvals process to ensure proper scrutiny of spending".
It comes as it looks to cut thousands of military and civilian personnel.
About 920 soldiers and 930 RAF personnel were told they were being made redundant, in the first tranche of cuts announced in last year's Strategic Defence and Security Review.
About 42,000 MoD civilian and armed forces jobs are to be cut by 2015 as defence spending falls by 8% over the next four years.
'Perfectly legitimate'
The MoD says it needs the expertise of specialists to provide advice when it buys military equipment.
Mr Hammond told BBC Radio 4's Today programme that it was "perfectly legitimate" for the MoD to hire consultants.
But he added: "Have the guidelines and procedures been followed properly? On the evidence of this report, they have not.
"The Ministry of Defence has a culture of sloppiness around financial discipline and management controls.
"Ten years of lax controls under the last government has created an environment in which good financial discipline is not the prevailing culture."
He said new controls were being brought in and a fresh audit would be carried out six months after the plans were introduced next April.
"The MoD is an oil tanker. It has 250,000 people and you can't turn it on a six pence. The culture is changing," he said.
'Not right'
Shadow defence secretary Jim Murphy said there should always be value for money.
"Recent revelations show even today the MoD pays consultants £4,000 a day, which means some consultants are getting paid more in a week than some [in the] forces get in a year," he said.
"I don't think that's right."
Under the last Labour government, the rules were relaxed to allow civil servants to bring in technical advice and support without ministerial approval as it sought to carry out ship-building programmes and other major projects.
Current projects include a £1bn upgrade of the Army's Warrior armoured vehicles and two new Queen Elizabeth class aircraft carriers, HMS Queen Elizabeth and HMS Prince of Wales, are being built.
Figures obtained by the Guardian, using the Freedom of Information Act, revealed the MoD spent £564m in the last two years on contractors.
Some 380 firms are currently being employed for technical support. The MoD spent just £6m in 2006.
The audit of defence contracts since 2009 found that most were awarded without any kind of competition.
But Defence Secretary Mr Hammond said the MoD had cut the annual bill for management consultants from £261m under Labour to £21m.
'Economic madness'
Prospect, the union representing 7,000 civilian specialists in the MoD, said the findings showed how plans to cut staff had "badly affected" the MoD's ability to manage its equipment programme efficiently.
"The tragedy is that the department is busy making its specialist staff, who would normally undertake that technical work, redundant. It is economic madness," said national secretary Steve Jary.
The Taxpayers' Alliance said it was "appalling" the MoD had managed its budget "so catastrophically badly".
Matthew Elliott, chief executive of the pressure group which lobbies for lower taxes said consultants should be used "in moderation".
'Proper scrutiny'
An MoD spokesman said the government "instigated an internal audit" in the summer to assess the procurement of technical assistance.
"As a result of the findings of that report we are tightening the approvals process to ensure proper scrutiny of spending under this framework," he added.
Earlier this week, the National Audit Office (NAO) said cuts to defence spending had contributed to a £466m rise in the cost of the UK's 15 largest military equipment projects.
It said the decision to delay the Astute submarine programme could also leave the Royal Navy short of attack submarines.
The NAO said the cuts and delays represented poor value for money. Mr Hammond said the MoD had "got a grip" on costs.