Boris Berezovsky 'threatened former employee'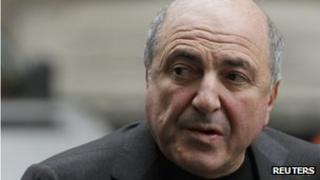 Exiled Russian oligarch Boris Berezovsky sent a threatening text to a former employee which he signed "Dr Evil", a High Court judge has heard.
Mrs Justice Gloster was told he warned the man that he was watching him and listening to his phone calls.
Mr Berezovsky's lawyer denied the claim at the Commercial Court in London.
Mr Berezovsky is suing Chelsea Football Club owner Roman Abramovich for £3bn amid claims he "intimidated" him into selling shares below their true worth.
The text allegation was made by Eugene Tenenbaum, a Chelsea director and business associate of Mr Abramovich.
'Completely untrue'
The Ukraine-born businessman told the judge the text was sent because Mr Berezovsky was upset the man was "helping them".
He told the court: "It said that, 'I know you're helping them. I'm watching you. I'm listening to your phone calls. I'm controlling your Skype'.
"And I think he referred to Dr Evil - 'I'm Dr Evil', something to that effect."
But Mr Berezovsky's lawyer Laurence Rabinowitz said: "I suggest to you that this is completely untrue."
Mr Tenenbaum said the text "sent a few months ago" had threatened the employee.
Mr Berezovsky, 65, claims Mr Abramovich "betrayed" him into selling shares in Russian oil firm Sibneft for a fraction of their true worth.
He alleges breach of trust and breach of contract, and is claiming more than £3bn in damages.
Mr Abramovich, 45, denies the allegations and denies Mr Berezovsky is entitled to damages.
The Chelsea owner has said he was paid millions of pounds for his services as a "political godfather" but was not a business partner.