Red Arrows death: MoD lifts Tornado flights suspension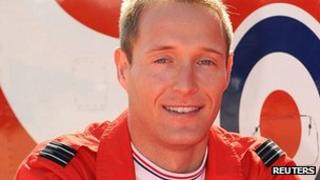 A ban on non-essential flying in Tornado attack jets, implemented after the death of Red Arrows pilot, has been lifted, the Ministry of Defence says.
Flt Lt Sean Cunningham, 35, was killed after being ejected from his plane while on the ground at RAF Scampton in Lincolnshire on 8 November.
All but vital flights in planes with similar ejection seats were stopped.
The suspension remains on Hawk T1, Hawk T2 and Tucano flights while the RAF reviews evidence on those aircraft.
An MoD spokesman said: "Following consideration of safety and engineering advice and the issuing of a precautionary technical instruction for the aircraft by Defence Equipment and Support, the RAF chain of command has authorised the resumption of all Tornado GR4 flying operations without restriction.
"The RAF is still reviewing other available evidence regarding Hawk T1, Hawk T2 and Tucano.
"Therefore, as a precaution, the temporary suspension of flying for these aircraft remains in place at this time."
Flt Lt Cunningham lived in Coventry and attended Nottingham Trent University before joining the airforce in 2000.
He was born in Johannesburg, South Africa, and moved to the UK in 1986 at the age of nine.
He was involved in several operational tours over Iraq.
The accident came less than three months after another Red Arrows pilot, Flt Lt Jon Egging, 33, was killed after an air show in Dorset.
His aircraft crashed on 20 August, after performing a display with the Red Arrows watched by his wife.
The RAF temporarily halted flights on all 126 of its Hawk T1 training jets while preliminary investigations were carried out into the cause of the earlier tragedy.