Stephen Lawrence friend recalls attack on teenager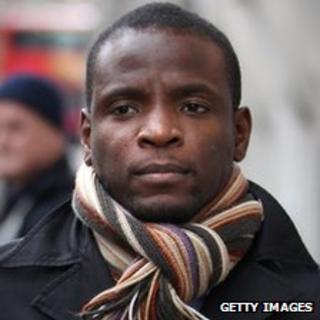 The best friend of Stephen Lawrence has broken down at the Old Bailey as he described the attack on the black teenager that led to his death.
Duwayne Brooks said he saw his friend struck twice by two different weapons in an attack by six white men who had shouted racial abuse at them in 1993.
Describing his fear, the 37-year-old said the scene in Eltham, south London, had been "distressing" and "scary".
Gary Dobson, 36, and David Norris, 35, both of south London, deny murder.
It is alleged they were among the group that forced 18-year-old A-level student Mr Lawrence to the ground at a bus stop, then stabbed him twice.
Mr Brooks told the jury he had originally met Mr Lawrence on the first day of secondary school and they became best friends.
He said he and Mr Lawrence had been at a bus stop when they saw a group of boys coming towards them. He said he had noticed six.
'Distressing'
"These guys have come across the road and one of them said, 'what, what nigger'," he told the court.
"I ran. When I turned around Stephen Lawrence was behind me, in the road. The group were feet away from him."
Mr Brooks, who managed to escape being attacked himself, said he had felt threatened and told Mr Lawrence to run.
He told the court: "The group converged on Stephen. I was looking, view partly blocked by a tree, but jogging back in fear.
"When I looked back I saw, at that moment in time, I don't know if you could call him the leader, but the guy who had the weapon, ran straight into him and, wham, just like that," Mr Brooks told the jury.
He described the weapon as "shiny" and about a foot long, and said Mr Lawrence had also been hit with a metal bar, probably on his head.
The witness said his friend could not run properly and had "had blood streaming out".
He kept saying to me 'what's happening to me?' as he was bleeding from the neck," said the witness.
Describing his friend's dying word to him, he added: "He said one more time 'Duwayne' and his voice was funny and he fell at that tree."
He said the attackers had all been white, about the same age, and wearing jeans.
The person who shouted the racist remark at him had been wearing a grey bomber jacket with white strips on either side, he added.
Under cross-examination, Mr Brooks was reminded of his "previous" statement that he had seen the white men earlier that evening.
He said: "I said it in 1995 while I was suffering post-traumatic stress disorder."
Mr Brooks' original eyewitness statement was read back to him, and he was asked: "Did that actually happen?"
He replied: "I made a statement some months after when I began to remember other parts of the incident which for some reason I couldn't remember because it was too distressing, it was too scary to remember and it was very upsetting."
Later, the first police officer at the scene of the attack described seeing a large pool of blood on the pavement where Mr Lawrence lay.
PC Linda Bethel said Mr Brooks told her at the time that "he didn't witness the assault".
In cross-examination by Timothy Roberts QC, for Mr Dobson, she agreed Mr Brooks could not tell her what the white youths looked like.
Mr Lawrence's parents, Doreen and Neville, were in court to witness proceedings.
The judge earlier told the court that Mr Brooks' father had died overnight but the witness had decided to give his evidence as planned.
The court also heard a statement from Conor Taaffe, who heard Mr Lawrence collapse after seeing him running along the road with Mr Brooks.
Mr Taaffe, who was heading home from church with his wife Louise, said in a statement: "I noticed Stephen was bending forward from his middle while running. He was holding his upper chest with one of his hands."
He said he and his wife kept walking in the opposite direction but heard Mr Lawrence fall and went to help when he saw him lying face down on the pavement.
"I was holding his head and back and prayed over him in a whisper and said things like 'bless him Lord Jesus'," the statement read.
His wife Louise put her hand on Stephen's jacket and comforted him as he fought to stay alive, the court was told.
She described Mr Brooks as "very hysterical and virtually screaming rather than talking".
Describing the cause of Mr Lawrence's death, pathologist Dr Richard Shepherd said he bled to death after his arteries were severed by stab wounds to the right and left shoulder.
The fact that the student had run 200m (220 yards) before collapsing was consistent with his injuries, he added.
Meanwhile, an article in the Spectator magazine relating to the case has been referred to the Attorney General.
The judge said he had decided to ask Dominic Grieve QC to consider whether the piece by Rod Liddle, in which he expressed his views on the trial, was in contempt of court.
The judge asked the jury whether they had seen the article; after hearing that they had not, he directed them not to read it.
The magazine's deputy editor Mary Wakefield and a lawyer - Gavin Millar QC - later appeared in court to apologise.
The trial was adjourned to resume on Monday.