Newspaper review: Economic woes grow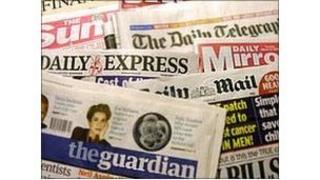 An air of deep foreboding hangs across the UK's front pages after Wednesday's dire jobless figures and bleak forecasts from the Bank of England.
The Times talks of the "jobless generation" and "a day that transformed Britain's prospects", putting the country on "recession alert".
"The official figures," says the Daily Mail, "painted a shockingly bleak picture of jobs market in crisis".
And the Daily Mirror calls the jobless figures "Cameron's new shame".
'Betrayal'
The gloomy economic figures prompt the Independent headline of "pain but no gain" and the Daily Mail says foreign workers are taking yet more of those jobs that are available.
It says the number of British-born workers fell by 311,000 in a year but the number of foreign-born employees rose by 185,000 in the same period.
The Daily Express says: "Migrants grab 12,000 jobs a month".
In an editorial, it talks of a "sickening betrayal of our young people".
Cheaper mortgages
Military chiefs are secretly drawing up plans to keep as many as 3,500 troops in Afghanistan after David Cameron's deadline to end the war, the Sun says.
The proposal is apparently a "worst case scenario" if the battle against the Taliban does not go well in the next two years.
The Daily Telegraph says first-time buyers will get cheaper mortgages under plans likely to be unveiled soon.
Under the plan, the government would apparently underwrite mortgages.
Football race row
The head of world football, Sepp Blatter, is widely criticised for remarks apparently dismissing fears of racism in the game.
In an editorial with the title "Sepptic" the Sun asks: "How much longer must football put up with the odious Sepp Blatter?"
The Daily Mail refers to the remarks as "Blatter's blunder".
And, striking a similar note, the Daily Mirror calls the football chief "Blatter the Buffoon".