Iraq Inquiry report to be delayed until summer of 2012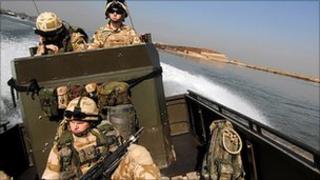 The publication of Iraq Inquiry report will be delayed for at least six months due in part to a dispute over the release of secret documents.
The Chilcot inquiry had hoped to release its report into the run-up to the 2003 invasion and its aftermath before the end of the year.
But it now says this will not happen until next summer at the earliest.
Co-operation from the government was needed to publish declassified material in a "satisfactory manner", it added.
In a statement, the Inquiry said it had advised No 10 that it would need until next summer, at least, to produce a report which would "do justice to the issues involved".
Although it has never given a date for publication, the inquiry indicated it hoped to do so either in late 2011 or early 2012.
'Much to do'
Although "considerable progress" had been made, the inquiry warned there was "still much to do" and hinted at the slow progress in securing the release of certain documents.
It added: "As well as drafting the report, the inquiry will need to negotiate the declassification of a significant volume of currently classified material with the government, to enable this to be quoted in, or published alongside, the inquiry's report.
"That process has begun but there will be a series of further major requests as drafting progresses.
"The inquiry has made clear that it will need co-operation from the government in completing this in a satisfactory and timely manner."
The Inquiry held 18 months of public hearings between the end of 2009 and early 2011.
Those giving evidence included former prime ministers Tony Blair and Gordon Brown, senior Cabinet ministers during their governments, military commanders and diplomats.
At one hearing in early 2010, inquiry chairman Sir John Chilcot expressed his frustration about his committee's inability to publish certain classified documents relating to Iraq policy.
Although the committee could see these documents, their public release had not been sanctioned by the government - a move also criticised by Lord Goldsmith, attorney general in the run-up to war.
One hundred and seventy-nine British troops were killed in Iraq between 2003 and 2009, when UK forces left the country.