UK family migration cuts proposed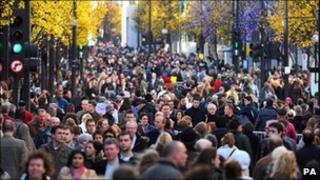 The government's migration advisers have recommended changes that would cut family visas by up to two-thirds.
The Migration Advisory Committee said UK residents sponsoring a partner's arrival should earn between £18,600 and £25,700 before tax.
The present threshold is £13,700 and ministers asked for a figure to exclude people who may be a public burden.
The government wants to cut net migration to tens of thousands by the end of the Parliament.
The committee estimates that the move would reduce numbers granted visas by between 45% and 63%.
Under current rules, someone who is legally present in the UK can sponsor the arrival of their spouse or partner providing they themselves are earning at least £13,700 before tax and housing costs.
The government asked the MAC to identify a salary level that would affect the number of family members who come to the UK and in turn prevent any of them becoming "a burden on the state".
The committee has recommended in a report that the figure should be between £18,600 and £25,700 before tax. It estimates that the lower figure would cut settlement through the family route by 45%. The higher figure could reduce it by 63%.
The lower figure is the point at which benefits, including housing benefits and tax credits, are withdrawn, while the higher represents the typical income of a one-adult household that should not be a burden on the state.
The changes would only apply to workers from outside of the European Economic Area.
Committee chairman David Metcalf said: "The current threshold seems low considering the government's desire to ensure new migrants settling in the UK are not a burden on the state.
"Our recommendations are made on a purely economic basis and we recognise that family migration is not determined by economics alone. However our analysis suggest there is justification for raising the pay threshold."
Professor Metcalf said it was not the committee's job to consider wider questions relating to a right to family life, a key area of law applying to immigration.
Figures show that the Home Office granted almost 41,000 family visas in the spouse/partner category last year, a third of them to people coming from south Asian nations. A further six per cent were to people from the United States.