Stephen Lawrence attack 'was completely unprovoked'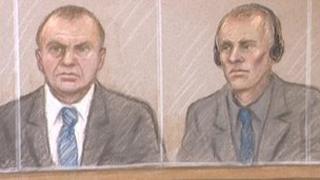 The attack that left black teenager Stephen Lawrence dead looked like it was "completely unprovoked", an eyewitness has told an Old Bailey jury.
Royston Westbrook described how a group "collided" with Mr Lawrence and his friend Duwayne Brooks, who escaped.
Gary Dobson, 36, and David Norris, 35, both from south London, deny murder.
The prosecution alleges they were part of a group of white youths that shouted a racist remark then attacked Stephen, in Eltham, south London, in 1993.
The youths forced the 18-year-old A-Level student to the ground at a bus stop and then stabbed him twice, the prosecution says.
Hospital worker Mr Westbrook was the first prosecution witness to give evidence about the night Mr Lawrence died, in April 1993.
He said the attack took less than 10 seconds and he thought that the gang had only punched Mr Lawrence because he did not see a weapon.
'Shouting and cheering'
Another witness, Joseph Shepherd, told the court of the moment of the attack: "Something was said and basically they (the group of youths) charged at them."
There was then a scuffle with the white attackers "shouting and cheering", said Mr Shepherd, who recognised Mr Lawrence from a neighbouring estate.
He went on to say: "They just bundled in on top of them."
Mr Shepherd later tried to make sure that Mr Lawrence's parents were told what had happened.
Under cross examination by Timothy Roberts QC, for Mr Dobson, Mr Shepherd said he had felt "pushed" to give a description of one of the attackers to a police artist.
"I did not think this was very good, and the finished picture did not look like what I had seen," he added.
'Run, Stephen'
Earlier, Mr Westbrook described how, in the moments leading up to the attack, Mr Lawrence and Mr Brooks chatted about football and discussed whether they should wait for a bus or walk elsewhere to try to get another.
They eventually took the decision to walk away, and were attacked by a group of "four or five white youths".
"They just collided - that's what it looked like," Mr Westbrook told the court.
"They were just heading towards each other and that was it."
He went on: "They grabbed Duwayne Brooks' wrist but he turned his wrist and just pulled away. Duwayne ran towards the bus stop where we were standing and turned round and shouted something like 'Leg it, Steve' or 'Run, Stephen'."
Mr Lawrence was forced to the ground, said Mr Westbrook, who was on his way home from work at Grove Park Hospital.
"I saw them surround Stephen and he went down basically through sheer weight of numbers in the middle of them," he said.
"It looked at the time that someone went to punch him."
'Really quick'
He went on: "It was so quick, it really was quick - it was about 10 seconds - and my impression going away from that was that they managed to punch him and that was it."
He said Mr Lawrence got back up and "ran for his life" while his attackers stood for a few seconds and then walked off.
After getting on a bus, he looked out and saw Mr Lawrence collapsed on the ground.
He told the jury: "From my point of view it was a completely unprovoked attack.
"They did nothing to justify it."
A youth who got on the bus with him said: "It looks like they got him because he was black, doesn't it?"
Another eyewitness, French au pair Alexandra Marie, told the jury that Mr Lawrence did not fight back when he was attacked, close to the bus stop where she was waiting.
She said: "There were some white men who were like kicking him and holding him at the same time, but the young man didn't reply. He tried to protect himself."
She went on: "I didn't have the impression it was very violent aggression because there was not a lot of shouting. But I didn't feel at ease," she said.
Duwayne Brooks, who managed to escape the attack, is due to give evidence on Thursday.
The trial continues.