Toast sandwich is UK's 'cheapest meal'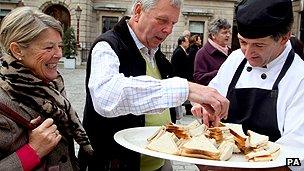 Britain's 'cheapest' lunchtime meal was unveiled by scientists on Wednesday - the toast sandwich.
The Royal Society of Chemistry (RSC) is reviving the mid-Victorian dish, which, unsurprisingly, consists of two slices of bread around a slice of toast.
The society is so confident in the repast, it will offer £200 to anyone who can create a cheaper alternative.
The meal, costing 7.5 pence, was first promoted by Victorian food writer Mrs Beeton.
To celebrate that anniversary, the RSC decided to focus on meals that reflected "stern days" to come in Britain, rather than one of the book's many "table-groaning creations".
The meal was recreated by a chef at the RSC on Wednesday and offered to people outside their London offices.
The RSC's Dr John Emsley said: "You simply put a piece of dry toast between two slices of bread and butter, with salt and pepper to taste. I've tried it and it's surprisingly nice to eat and quite filling.
"I would emphasise that toast sandwiches are also good at saving you calories as well as money, provided you only have one toast sandwich for lunch and nothing else."
The toast sandwich provides about 330 calories, and consumers could opt for the healthier alternative of margarine instead of butter - an ingredient not available to Mrs Beeton because she was writing her book before it was invented.
"Of course, when we finally emerge from these dark days we will seek something more celebratory from Mrs Beeton's pantheon of rich recipes to welcome back the good times," Dr Emsley added.
RSC employee Jon Edwards said: "In my student days I thought a meal of '9p noodles' from Tesco was the epitome of thrift - but a toast sandwich is tastier, quicker, has more calories and comes in at just 7.5p."
Mr Edwards added that the 21st Century version of the toast sandwich is healthier than the one from Mrs Beeton's era because of the vitamins and minerals - such as calcium - that are added to bread today.
British Dietetic Association spokeswoman Melissa Little said there were ways to make the toast sandwich much better for not that much more money.
Ms Little said: "You can add an egg for 8p, it's not much and it would give you some protein and keep you fuller for longer - and it would make it taste much better.
"Half a can of sardines for 19p would provide good fats, you would get some fish, and again make you feel fuller for longer.
"Even adding some vegetables, such as cucumbers or carrots - would give you some more nutrients."
She suggested the exercise did highlight that people are struggling to pay for grocery bills and looking for alternatives.
The more people talk about making healthy meals for less money, the better informed people would be, she said.
The first instalment of of Mrs Beeton's Book of Household Management was published in 1861. It sold over 60,000 copies in its first year of publication and nearly two million by 1868.
As well as recipes the book contained advice on household management, childcare, etiquette, entertaining and the employment of servants.
Related Internet Links
The BBC is not responsible for the content of external sites.