Wikileaks' Julian Assange seeks Supreme Court hearing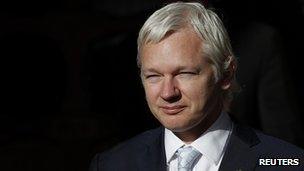 Wikileaks founder Julian Assange is applying to have his case against extradition to Sweden heard by the UK Supreme Court.
He lost a High Court battle earlier this month to halt his removal for questioning over alleged sex offences.
Mr Assange denies raping a woman and sexually molesting another in Stockholm in August 2010.
On 5 December he will ask the High Court to rule his case raises a question of general public importance.
Mr Assange claims his arrest, under the European Arrest Warrant (EAW), was politically motivated and linked to the activities of WikiLeaks. The website angered the United States by publishing thousands of secret documents.
He is attempting to appeal to the Supreme Court on two grounds.
Mr Assange says the highest court should consider whether his extradition would be unlawful because the request was made by a "partisan prosecutor working for the executive" and whether he can be defined as "the accused" even though no decision has been taken to prosecute him.
After losing at the High Court on 2 November the 40-year-old Australian hit out against the EAW. He said: "I have not been charged with any crime in any country.
"The European arrest warrant is so restrictive that it prevents UK courts from considering the facts of a case."
The High Court judges rejected claims that extraditing Mr Assange would be "unfair and unlawful".
The judges, the President of the Queen's Bench Division Sir John Thomas and Mr Justice Ouseley, said that the issuing of the European arrest warrant (EAW) that led to Mr Assange's arrest and all subsequent proceedings to achieve extradition was "lawful" and "proportionate".
They upheld a decision made by District Judge Howard Riddle in February, when he ruled that Mr Assange should be extradited to face investigation following a hearing at City of Westminster Magistrates' Court.
Related Internet Links
The BBC is not responsible for the content of external sites.