UK families are 'wasting less food' but told to do more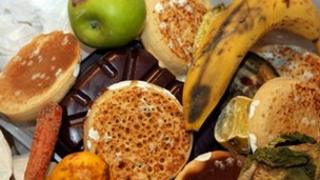 There has been a large fall in the amount of food households throw away, but the average UK family still wastes £680 worth each year, figures suggest.
Results from the government's Waste & Resources Action Programme (Wrap) show there has been a 13% reduction in household food waste since 2006-7.
The amount thrown away each year has fallen from 8.3m tonnes to 7.2m tonnes.
But Wrap's chief executive, Dr Liz Goodwin, said food worth £12bn a year is still being binned.
She said the fall in food being thrown away was "very welcome", but more still had to be done.
"Despite the reduction, the food we waste in homes, which accounts for about half the UK's food waste, is still worth £12bn a year as a result of food price inflation.
"And the food that is being wasted throughout the supply chain is significant at a time when food security is a major global issue," she said.
According to Wrap, high food price inflation means the financial value of food wasted in the UK has remained the same over the last three years, despite less being binned.
It says had the reduction in waste not been achieved, the value of food thrown away would have been at least £2.5bn more - taking the total to £14.5bn.
The advisory body, which used data from about 90 local authorities for its research, about a fifth of all food purchased is wasted and more than half the food that is thrown away, about 60%, could have been eaten.
The organisation said its findings suggested the reduction in waste could be in part due to increased food prices and difficult economic conditions.
Amy Lloyd, from the consumer research analysts Mintel, agreed.
She said: "Consumers are shopping less so there is less temptation to buy extra food that will go to waste and they are actually planning. They are making a shopping list when they're going shopping and they're sticking to that list.
"There's definitely a willingness by consumers to reduce their food waste, to be more organised, to plan ahead, to utilise leftovers and to save themselves money.
"But with time pressures and disorganisation there's bound to be some waste in the weekly shopping basket."
Fertiliser solution
Wrap said the reduction in food waste had saved local councils in the UK up to £80m a year, because by sending less food to the tip they are incurring lower landfill charges.
Some councils have concluded that getting people to throw away less is not the only answer to the problem.
In Oxfordshire, South Oxfordshire District Council (SODC) and nearby Vale of White Horse District Council collect 225 tonnes of food waste a week between them.
They have introduced a scheme to turn it into fertiliser and electricity using an anaerobic digester.
Councillor David Dodds, whose portfolio on SODC includes waste, said it was crucial that councils found other ways of dealing with the problem of binned food.
He said: "It is extremely surprising how much is thrown away. It's not in people's interest to throw away food, it's costing them more and more and it costs us as a council to deal with it.
"A lot of it is going to landfill producing methane and spoiling the environment, the taxes are enormous and that's only going to increase over the years."