Doctor Who 'to be made into Hollywood feature film'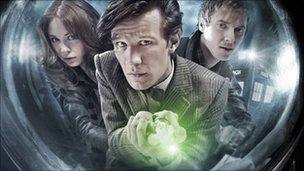 Cult BBC TV show Doctor Who is set to be made into a Hollywood movie, a leading director has said.
David Yates, who directed the last four Harry Potter films, told Variety magazine he is working on developing a feature film with the BBC.
He said the film would take a fresh approach to the show, which first appeared on TV in 1963.
Yates said it would take "two to three years to get it right" as the show needs "quite a radical transformation".
"Russell T Davies and then Steven Moffat have done their own transformations, which were fantastic, but we have to put that aside and start from scratch," he said.
Yates is reported to be working with the head of LA-based BBC Worldwide Productions, Jane Tranter.
A BBC spokesman said: "A Doctor Who feature film remains in development with BBC Worldwide Productions in Los Angeles.
"The project is unlikely to reach cinemas for several years and as yet there is no script, cast or production crew in place."
Doctor Who began in 1963, and seven actors played the Doctor before the show was dropped in 1989.
After a TV movie in 1996 - starring Paul McGann - the TV series returned in 2005 with Christopher Eccleston in the lead role. David Tennant took over in the same year.
The sixth series of Doctor Who, starring Matt Smith as the Doctor, was broadcast on BBC One earlier this year.