London 2012: 'Brilliant! I'm going to the Paralympics!'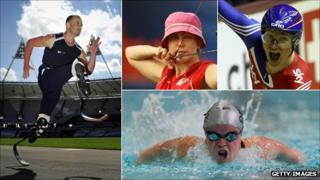 Applicants for tickets to the London 2012 Paralympic Games have now all been told which events they will be going to, as the ballot process completed on Friday.
Earlier this week it was announced that remaining tickets for the Paralympics would go on sale on a first come, first served basis on 2 December.
Here, some of those who applied in the first round reveal which events they have secured seats for, and their plans so far for travelling to the Games.
Sarah Ellacott
Sarah, 28, is a homemaker from Croydon with four children aged seven, five, four and 18 months. She home-schools her son Matthew, nearly six, who is autistic, while she waits for a suitable place at a local school to become available. She is also doing an Open University course in Politics and Sociology.
"We were really, massively excited when we got our tickets - we got everything we applied for - athletics and swimming. I thought we'd be lucky to get one set, so when but we got both, it was 'Yay, we're going to the Paralympics!'.
Our oldest daughter, who's seven, loves sport so she can't wait to go. Our youngest is only one so he doesn't really understand it yet, but our three-year-old will enjoy it when he sees it all. He can get excited at the thought of going to Legoland because he knows what it is, but he doesn't really understand the Paralympics yet.
Matthew, who's five, isn't fully aware of what he'll be going to. But when we get there next year he'll start asking questions.
All the people there will have disabilities like him but they're more physical than his. But we can tell him that just as he faces challenges, they do too, and they've managed to get to the top of their field. He'll see that he could do it too.
We haven't spoken about the Paralympics since we got the confirmation we're going. Because Matthew's autistic, he lives life on a day-to-day basis. Today his obsession is trams and he says he wants to be a tram driver - it changes all the time. But he'll be very happy that we're going to the Olympics on public transport.
Because we live in Croydon it will be easy to use trains to get to Stratford. I'm not going to make a decision on exactly what transport we're using until nearer the day. I'm hoping they lay on extra trains for everyone.
And it's great news that he's just got into the school we applied for. He starts next week so I can stop home-schooling him. The school has already got Olympic and Paralympic posters up so I think it the staff are taking a big interest in it all, which we're delighted about.
We don't know yet exactly what sport we'll be seeing but it's going to be early in the morning, so the kids will enjoy it before they get too tired. It's going to be a bit of a shock having to get up really early to get there, as you have to arrive an hour before it starts to get through security.
Any extra things we do when we get there will be dependent on the kids and how they are on the day. We'll definitely have a proper look around the Olympic site though. And me and my husband are going to the Olympic handball, football and hockey so we'll have a good look round then too.
It's going to be great."
Kath Vickery
Kath, 28, lives in Somerset and was registered blind in 2006, having been registered as visually impaired from childhood. Kath is currently unemployed and looking for a job, having previously done administrative work. She takes part in swimming competitions at a recreational level and has already got Olympic synchronised swimming tickets for London 2012.
"I applied for eight swimming sessions and the closing ceremony and I got everything I applied for except one swimming session. I was really pleased - it's like a dream that I'll get to see the athletes achieve at the highest level.
It was the swimming I was looking forward to most at first, but now I think the closing ceremony will sum the whole event up.
I'm not having much luck in finding places to stay in London yet, prices seem to have been hiked up for the Games.
I don't want to be changing on the tube so I need to work out the tube route, so even if I stay five or six stops away I can still get to the stadium. I need to work backwards and work out the route before I can book anywhere. I haven't had any help with it all, I'm trying to do it myself.
I'm a bit confused by the ticket share scheme as I couldn't find all the information I wanted online [which allows disabled ticket holders to apply for an extra ticket if they require a carer to come with them]. But with the accommodation being so expensive it would make it difficult anyway.
I'll be in London for about six days so I'll be hoping to do a bit of sightseeing while I'm down. But I still don't know if I'm going to have a guide dog by next year's Games - I still haven't got one so I'll just have to keep waiting."
Ruth Faulkner
Ruth, 21, is a student at Queen Mary, University of London, studying journalism and contemporary history. She has set up an Olympic-inspired student-led volunteering project at the university called QMSU Aspire. It aims to increase understanding and recognition of the Paralympics and parasport in her local community of Tower Hamlets, an Olympic borough.
"I've been having problems accessing the Paralympic tickets website, but the money for them went out of my bank account, so that hopefully means I'll be seeing wheelchair basketball, goalball, boccia and sitting volleyball.
I think it's great that I'm going, I was determined to get there, one way or another.
I'm hoping to volunteer as a Games Maker as I really want to be involved. I've volunteered at a lot of sports events before, where you soak up the atmosphere but unfortunately don't get to see the competitors. This time I'll definitely see the sport as well.
It'll be nice to see the stadium up close, I've already done one of the pre-tours and enjoyed it, it was really interesting. I liked learning about the environmental side of it all.
It's going to be very easy for me to get to the Games because Stratford's only about 10 minutes away from where I live. So I had to go as it's so close, although I may try to stay off public transport.
Paul Dunn
Paul, 49, works for British Airways' HR Information Systems and lives in Wokingham. He and his family applied for Paralympic tickets after an unsuccessful attempt to buy Olympic tickets. He has also applied to be a Games Maker volunteer at the Olympic Games next year.
"We got both sets of tickets I applied for - athletics. When I found out we'd got them there was a second of relief, and then it was "Yes! We've got some dates for the diary!". We'd been through the process before when we went for the Olympic tickets, and there was all the disappointment of not getting them. But this time we've got something and we're on our way.
We went for these tickets partly because my wife and I enjoy watching any sort of athletics, but it's also about going to the main arena and that whole experience of being in the centre of everything. It's not just about the size and the design of the stadium, it's what it stands for and what's going to be happening there that adds to the whole thing.
We haven't made any plans yet on getting to the Paralympics. We don't live that far away, and both tickets are for morning sessions, so it's going to be an early train for us up to London. That will leave us the afternoons free - either to mooch about the Olympic site and soak up the atmosphere, or we can go into town before coming home.
If we do go into London, we'll probably walk along the South Bank by the Thames. There will be so many other people there and it will have a totally different feel to it, a different buzz which will only come from hosting the Olympics.
I haven't heard yet if I'm going to be a Games Maker volunteer. But I've been thinking about it all. It's potentially 10-hour shifts each day so I'd have to get up early, do the shift and then get home. I live a good two hours away so that's a lot of travelling each day. I also put in to be a volunteer for Dorney Lake [the venue for the rowing and kayak events] so it would be easier if I got that as it's nearer to my home.
What would be really handy is if they have some parks in London where you can camp, because I'm a happy camper as long as it doesn't rain. I haven't heard if you can do this, but it really would make sense for the Games Makers. If you can stick them all in a park somewhere, everyone will be happy to fend for themselves."
Sarah Price
Sarah, 26, works for School Sport Partnerships in County Durham, helping provide sport for 40 schools in the area, including disabled children. She has a passion for sport and also works with disabled people to encourage them to participate in sport.
"I got tickets for everything but the opening ceremony. So I'm going to two sessions of athletics and a swimming session plus I've got an Olympic Park Day Pass.
I was a bit disappointed not to get the ceremony because I think that'll be fantastic but I don't know if it's completely sold out yet. If there are any more tickets available when they come out in December at a higher price I'll try for them.
I'm really excited. I've got the hotel booked - we're doing four nights over three days of events - I've have stayed longer if I didn't have to be back for work. I'm staying within walking distance of the stadium, we didn't fancy the tube. I'm coming down with my partner. We've got time free during the days and try to get into some other events, maybe cycling.
While we're in London I'd like to do the duck tour on the river and go on the London Eye - there's plenty of time to book and it will be my main holiday for 2012.
I'd have been really disappointed if I didn't get the events I wanted - I picked the athletes I wanted to see. I know the classifications of the athletes so I had to pick what I thought they'd compete in. I've got tickets for one of the categories Oscar Pistorius may compete in - if he's running the 400m. There'll be quite a lot of finals on the Sunday night that we're there. We'll travel down by train or plane depending on the cost."