IPCC clears ex-Met officer John Yates of misconduct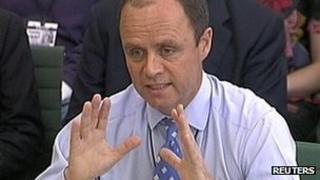 Former Met assistant commissioner John Yates has been cleared of misconduct over claims he helped an ex-News of the World journalist's daughter get work.
The Independent Police Complaints Commission (IPCC) said it had "found no evidence of misconduct which would justify disciplinary proceedings".
Mr Yates said he had acted with "complete integrity" and was extremely pleased to have been cleared.
He resigned in July after being told he was to be suspended pending inquiries.
The Metropolitan Police Authority had said Mr Yates would be suspended as the Met's head of counter-terrorism while his role in the police's phone-hacking inquiry was investigated.
In August, the IPCC cleared Mr Yates of misconduct in the Met's phone-hacking inquiry but said it was still looking into his relationship with ex-News of the World (NoW) deputy editor Neil Wallis.
'Complete integrity'
Mr Wallis worked as a PR consultant at Scotland Yard between 2009 and 2010 after leaving the NoW. He was arrested and released on bail in July 2011 on suspicion of conspiring to intercept communications.
It had been alleged that Mr Yates had acted inappropriately by forwarding Mr Wallis's daughter's CV to help her to secure employment at Scotland Yard.
In a statement issued by Scotland Yard after the IPCC said he had been cleared over the claims relating to Mr Wallis, Mr Yates said: "As I stated at the time of my resignation I acted with complete integrity and my conscience is clear. It is a matter of great regret that these referrals forced my premature resignation.
"I will not comment any further on these matters until the IPCC has published its full report."
The IPCC said that it would release its findings "in the coming weeks".