Newspaper review: Ceremonies for the fallen covered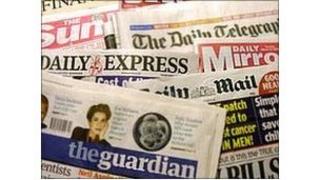 Poppies bloom on the front pages of Monday's newspapers, in striking images from Remembrance Sunday.
"Poppies for leaders past and present," is the Independent headline, next to a picture of the main party leaders with three former prime ministers behind.
The Times compares the displays worn by the Queen, Duchesses of Cornwall and Cambridge and Samantha Cameron.
"Princess Kate shed tears for the fallen" at the Cenotaph in London, reports the Daily Star.
Brave Ben
Glorious sunshine "could not deflect from the immense sadness that came from contemplating once more the loss of so many brave young men and women", suggests the Daily Express.
The Sun hails Para Ben Parkinson, told he would be bedridden for life after being blown up in Afghanistan, who walked on artificial limbs to lay a Remembrance Sunday wreath.
"One small step for a remarkable man," the paper says.
"One giant leap in all our hearts."
Consigned to history?
"Super Mario" is how some papers dub the man tasked with leading Italy out of its financial woes.
The Independent notes the joy of many Italians at the demise of Mario Monti's predecessor, Silvio Berlusconi, on so-called "Victory in Italy Day".
The Guardian wonders whether he is gone for good, "whether Italians have mentally consigned him to history".
Either way, it adds, "if he decides to obstruct the new government, he could still do Italy terrible damage".
Harsh verdict
A "despicable creature without any real redeeming features". Nothing to do with Mr Berlusconi, rather a description of David Cameron by one of his own MPs.
Patrick Mercer suggests it's a matter of interpretation, his comments having not been made "in the way that's being suggested", he tells the Independent.
"Pale, male and stale." That's from the Times on the makeup of the judiciary.
A top judge is backing the appointment of women and ethnic minority candidates as judges, the paper reports.