War and remembrance inside Tripoli, Libya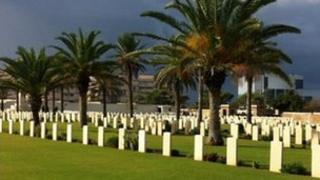 Tucked down a maze of back streets, lined with buildings pockmarked by stray bullets, lies an oasis of calm.
Tripoli War Cemetery, proudly run by the Commonwealth War Graves Commission.
Immaculately kept with trimmed lawns and gently swaying palms, this is the final resting place for some of the fallen of the North Africa campaign in World War II.
A battle waged on several fronts to unseat Italian and German forces between 1940 and 1943.
Libyans 'respectful'
A cluster of diplomats and expatriates have gathered to pay their respects, mindful no doubt that Libya is mourning its own, who sacrificed their lives during the recent uprising.
Yet the graves here were left untouched during that turbulent time.
"Libyans are very respectful of the dead," nods Bozic Dragan, a Bosnian Serb who has made Libya his home and now tends to the cemetery with a team of diligent gardeners from Burkina Faso.
Some 1,369 servicemen are buried here, in this, one of five Commonwealth war cemeteries dotted across Libya.
Seventeen nationalities are represented at the Tripoli cemetery - among them servicemen from Britain, Australia, India and Sudan.
Key landmarks in the campaign - including Tripoli, Tobruk and Banghazi where they fell - have been in the news once again during the eight -month war to unseat Colonel Gaddafi.
As a result military tourism is expected to flourish once confidence in a new Libyan government is engendered.
During his 42-year rule, Muammar Gaddafi, whose compound stands just a few hundred metres away, ensured the Commonwealth war graves were protected. He was a military man after all.
Bozic Dragan praises the restraint exercised by all sides during the fighting.
He said: "On the 20 August when the revolution hit Tripoli there were bullets flying outside - even the service entrance door was damaged by gunshots.
"We were really worried about our security, but throughout that time the people living outside were very friendly to us. They respected us."
With no water and no electricity during the conflict it felt like the place was under siege.
Graves untouched
The gardeners returned to the cemetery when the gunfire had settled to find the grass parched and flowers dead.
Yet the graves of the fallen were left untouched.
The palettes on which new gravestones had been stacked neatly now lie discarded in the street.
They were used as a roadblocks during the uprising, Mr Dragan explains.
Mercifully the tombstones themselves were ignored by the fighters.
As British diplomats and their foreign counterparts lay wreaths at the foot of a giant cross - a focal point for the war cemetery - Britain's role in Libya is marked once again.
Not simply as a foreign army - as it was back in the 1940s - but as a member of Nato.
Many people speak of the British warmly here, mentioning Prime Minister David Cameron by name - frequently in broken English.
The grave of a young soldier who perished in the Second World War lies bathed in sunshine.
A simple inscription reads: "There is some corner of a foreign field that is forever England."
That sense of common history is being revived once again.